Food is a love letter.
True love nourishes. True food does, too.
Whole foods, a gift from the earth infuses our being with the shimmery open energy of our inner goddess. Your shakti will rise. You will stand tall in who you are like a queen. When we walk in our goddess bodies we inspire others to do the same.
We are all worthy of health and beauty.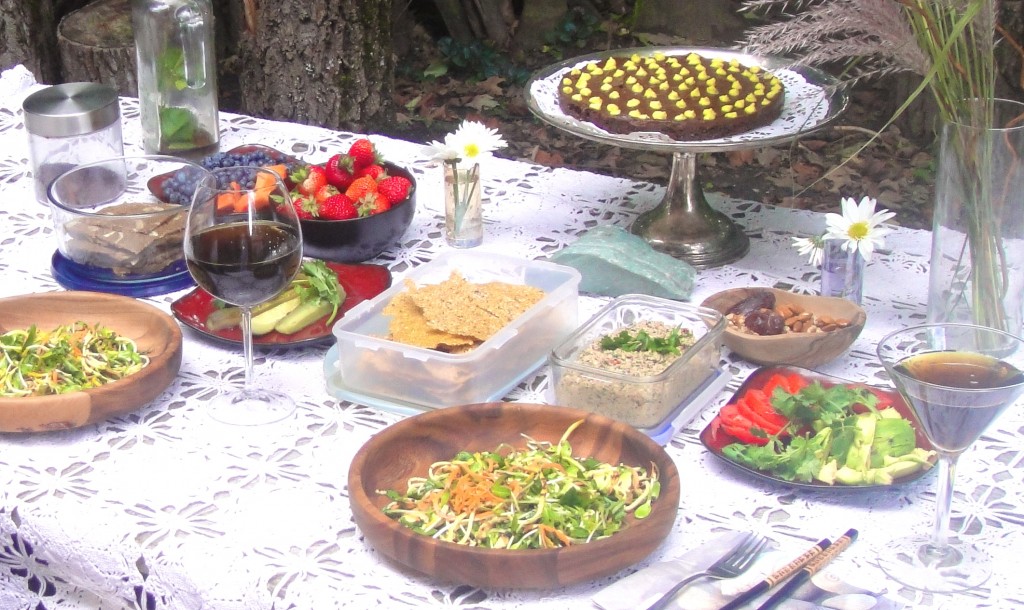 Eating this way, living like this is gigantically hot.
Undress your food and eat it nude; fresh, raw, unadulterated beautiful food.It's the sexiest way to eat and will seduce you into happiness, open your heart, and you will love every bite.
And I promise you… it will love you back!
with agave and wildflowers,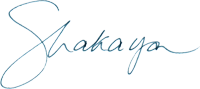 *excerpt and recipes from nude food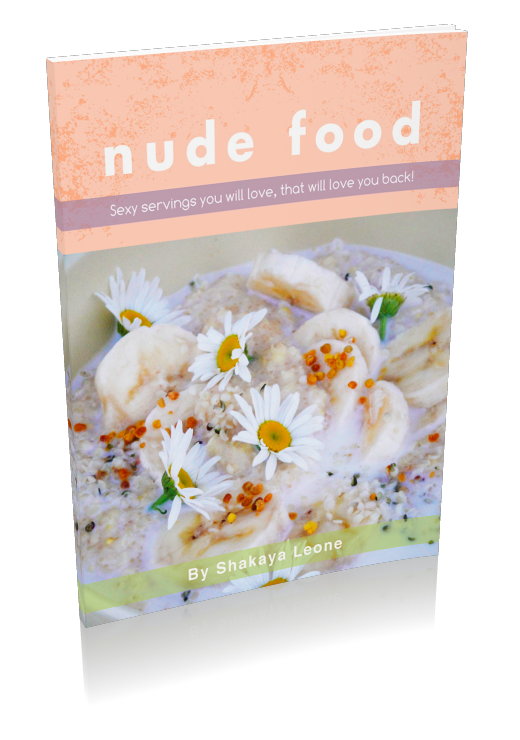 breakfasts
mornings are a magical time of renewal, ripe with potential and promise… 
 morning happiness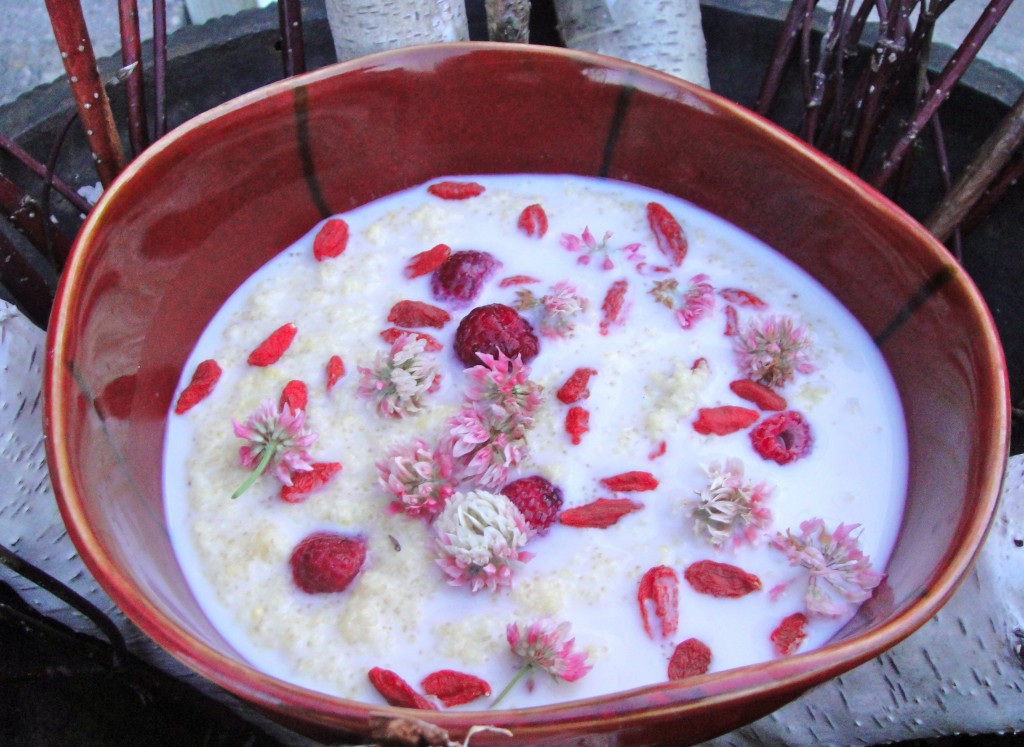 reminiscent of simpler times, this cereal just brings happiness. radiant goji berries and cutie-pie chia seeds nestled in sweet almond mylk. chia seeds are magical little powerhouses of long burning fuel that are a staple of the famous tarahumara tribe, super athletes of mexico. olympian goddesses love to nourish their bodies with this sweet treat. recipe in nude food and sweet seductions.
gratitude g'raw'nola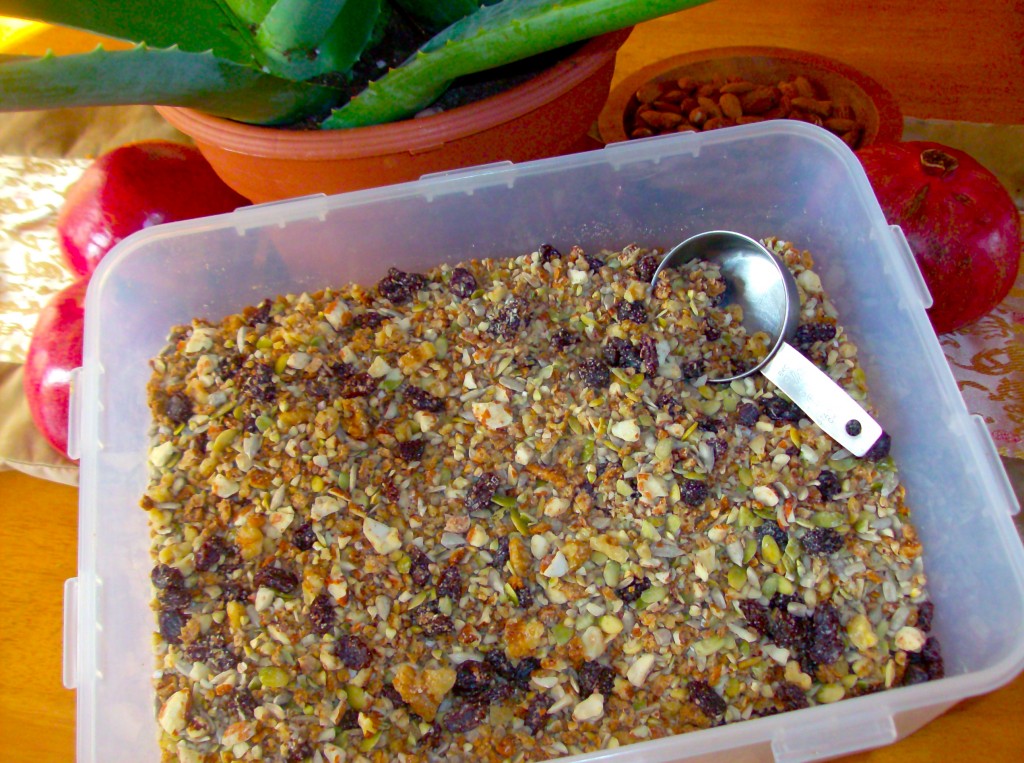 ingredients
2 c oat flakes
1 c pecans, brazil nuts, hazel nuts or almonds chopped
½ c pumpkin seeds or sunflower seeds and hemp seeds
¼ c unsweetened coconut flakes 1 c raisins, currants, goji berries or dried apple pieces
½ c chopped dates or apricots optional
¾ t cinnamon, nutmeg or allspice
½ t celtic sea salt
instructions
1. mix every rainbow color and texture of the freshest ingredients all together
2. seal grawnola in an air-tight container and scoop out a few tablespoons for every serving
3. add chopped fresh strawberries, blueberries or slices of banana
4. serve with almond mylk or on top of plain yogurt, with a golden drizzle of honey
get up and gojiberry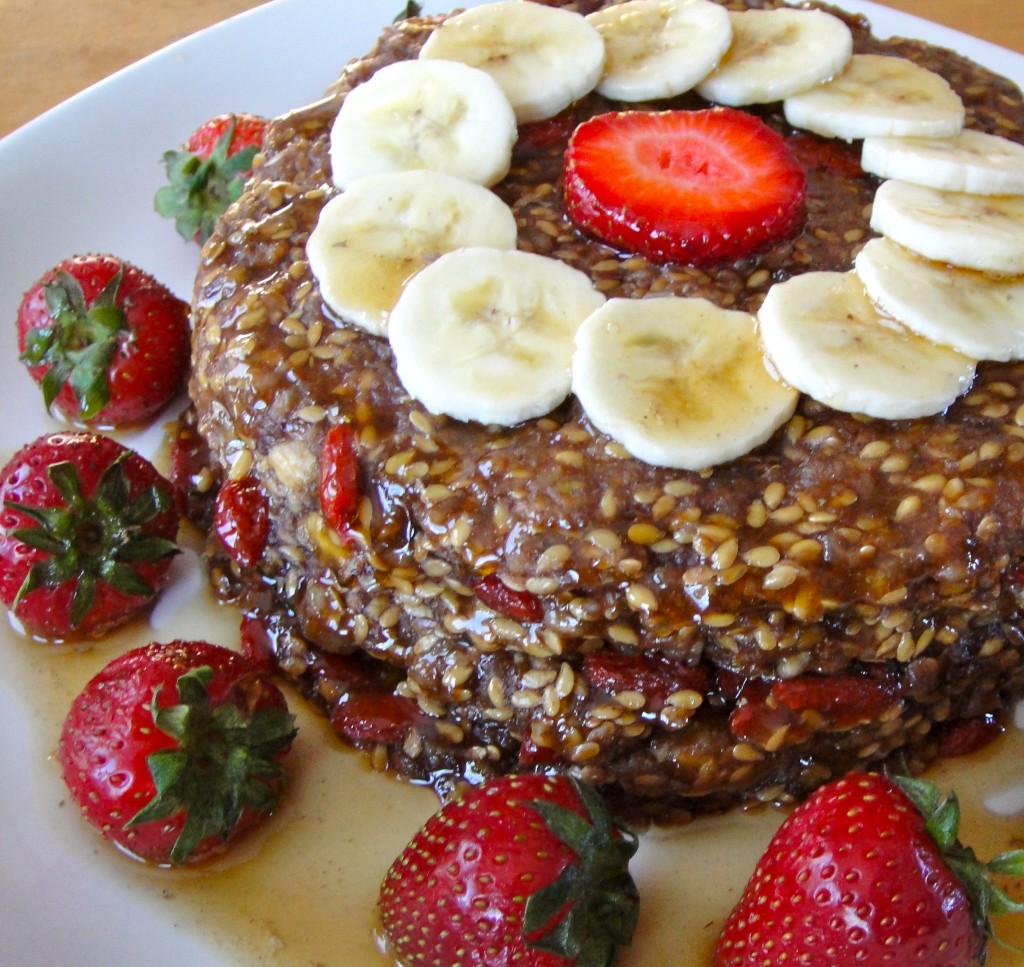 Who says you can't eat raw during the winter?
These pancakes are one of the tricks in my magic kit when cold weather sets in.  They are perfect for a special Sunday Brunch, or a fun dessert.
ruby radiance apple sauce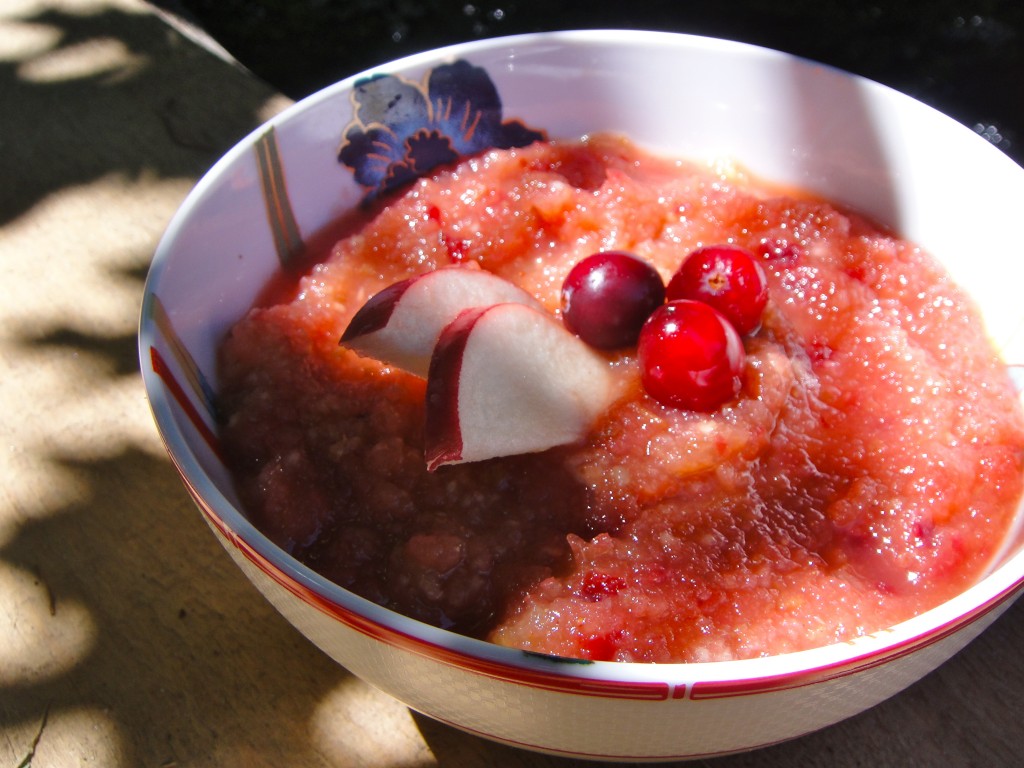 radiant, sassy cranberries. sweet apples and pears. currants and cinnamon. pure joy. drenched in living water. simple to make, so energizing and cleansing to experience. health is heaven.
ingredients
¼ c cranberries
5 c apples or pears peeled and chopped
½ c currants
1 t cinnamon
instructions
1. wash, peel and lightly chop your apples or pears 2. toss everything into the food processor until it reaches the texture you desire 3. pour into your favorite bowl and eat in a room with a view
purple sunrise porridge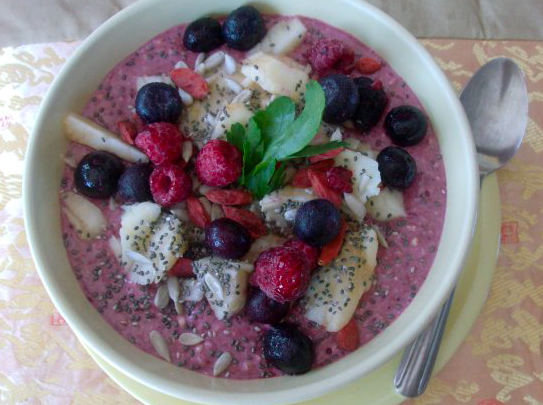 *recipe available in nude food
snacks
some days it's best to stay inside, wearing cozy yoga pants and a hoodie, hair in a bun, as your favorite music penetrates your spirit. curl up and snack and be with yourself, your bright being, and nourish yourself with pure soul food.
fattoosh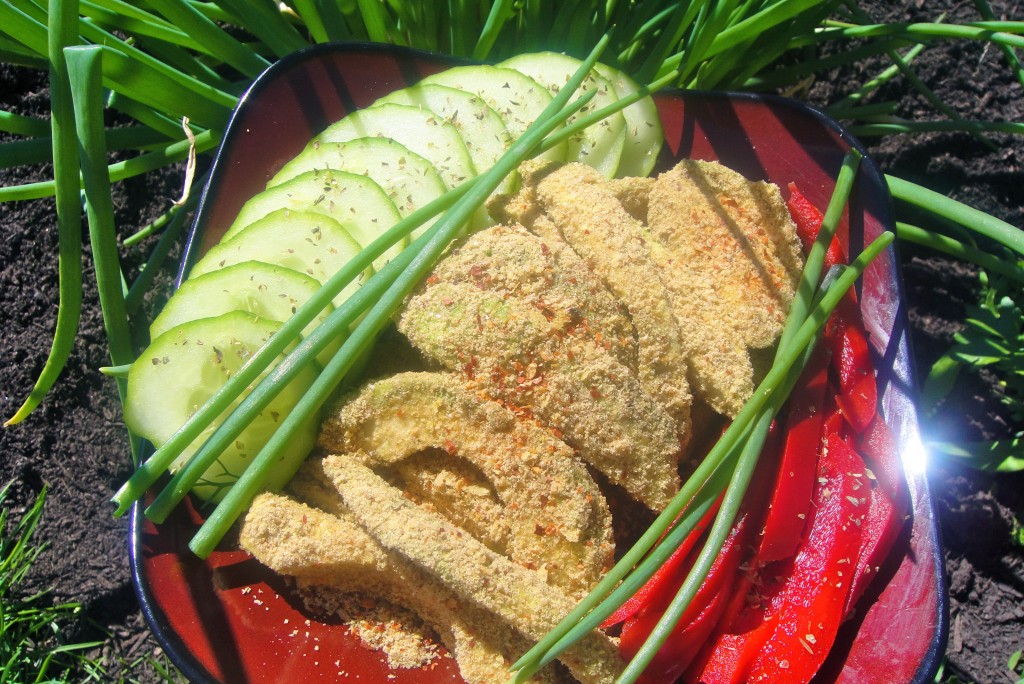 soft and creamy, rich and filling…quick and easy breezy, unique and decadent, simple and delish. finger licking heavy nutritional goodness. you really haven't lived until you've tasted my fattoosh!
ingredients
1 avocado
breading
¼ c ground flax
½ t minced garlic or powder
¹⁄8 t cayenne pepper or tumeric, cumin and oregeno 1 t nutritional yeast a pinch of powdered kelp
instructions
1. cut avocado in half and scoop out the pit
2. score the flesh into strips and remove them with a spoon
3. dip them into lemon juice
4. lightly roll them into the 'breading'
5. create a platter of sliced cucumber, carrots, red pepper, tomato, fresh parsley and chives and you're all set to enjoy the feast!
*recipe in nude food
garden guacaomole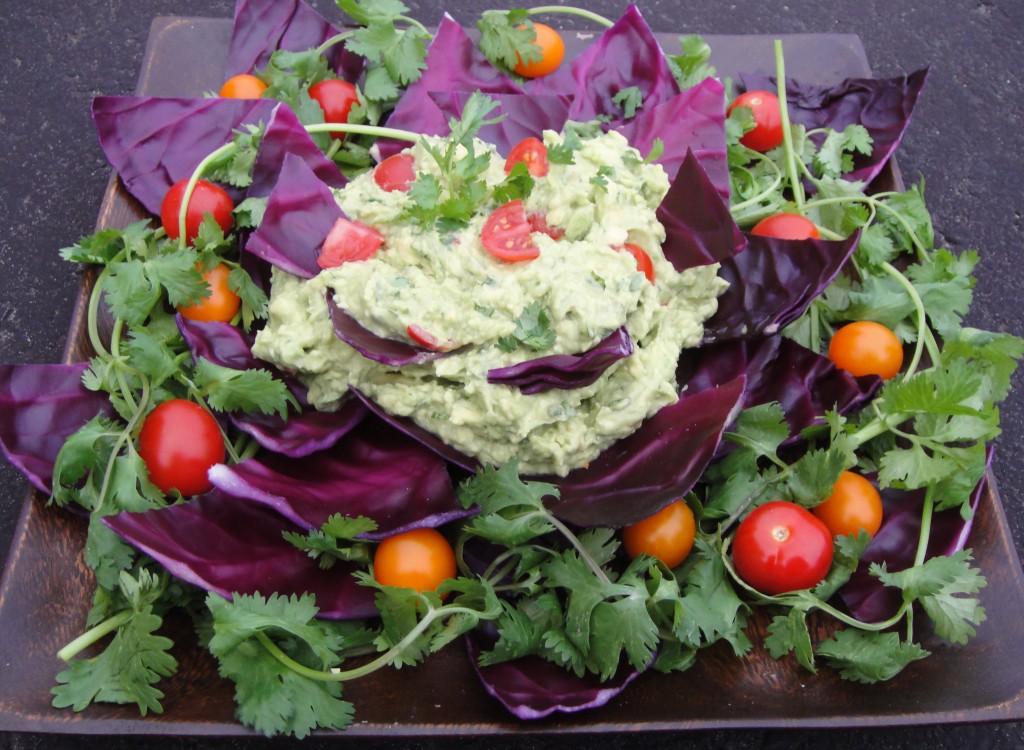 Have you ever thought of using cabbage triangles as raw, living, healthy nachos?
fresh fries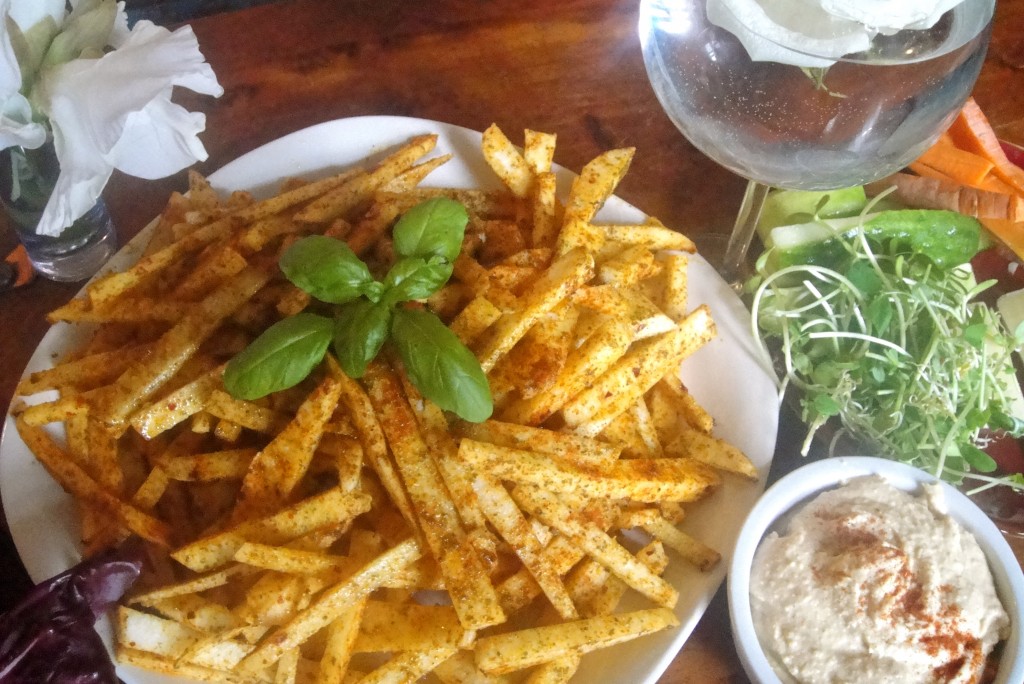 she wears lace stockings, and dabs french vanilla on her wrists tucking a little sachet between her breasts so her warmth will infuse it's lingering scent all day long. she takes small bites and savours them, breathing deep with her eyes closed. she sees herself as beautiful, flaunting her imperfections like jewels. she knows she is worthy of eating well and taking exquisite care of herself. of course. she has a french soul.
more love nori rolls
she lights her favorite japanese incense and places the stick in the soil of her windowsill rosemary plant. she grabs chopsticks from the drawer and secures her hair with them. she rolls out her tatami mats, chops herbs and breathes in their earthy smell. day dreaming, lemon juice rolls down her hands. it's not just another day, she thinks. it's the day. to love. to own her life. to grab it and make it the best day of her life. she wets her finger to seal a sheet of sea in big love.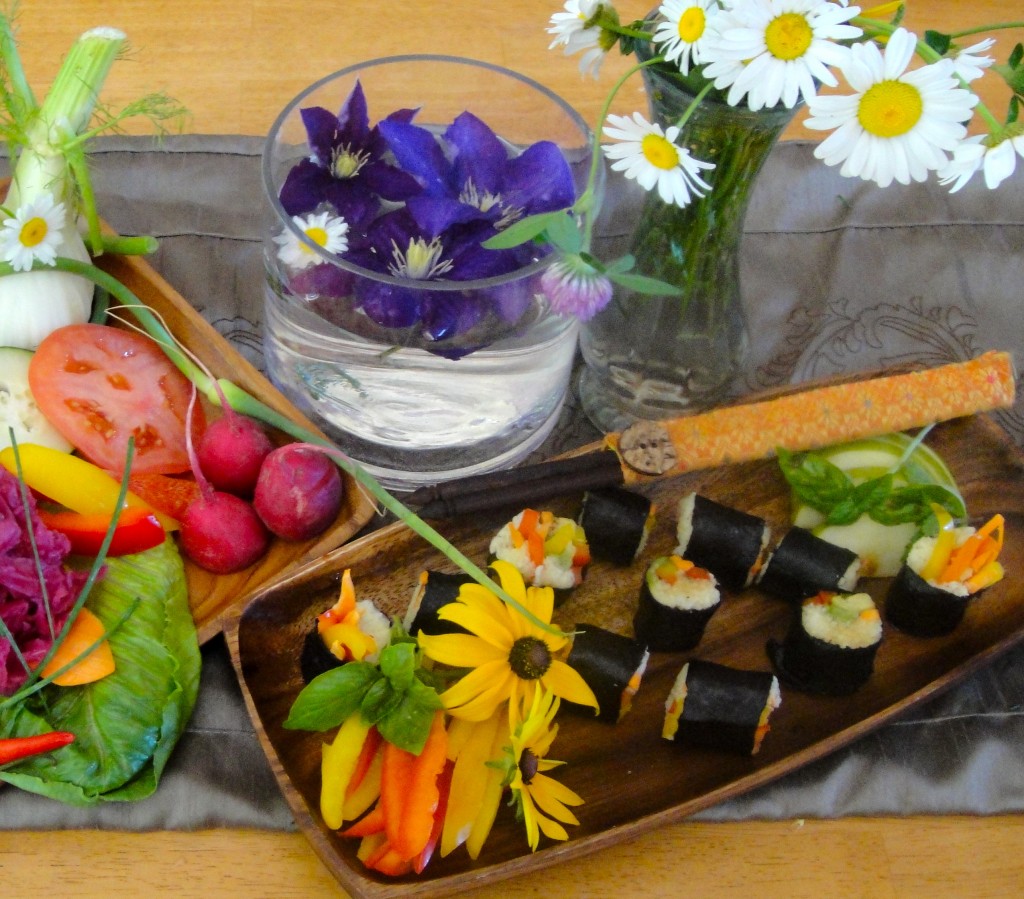 voluptuous veggie wraps
her problem was simple. her love was decadent, filled to the brim and
deep like the ocean. she was real and wild and nobody's fool. she didn't
play games. her swing in her hips  said 'i own my life.' she was fully raw.
her motto? 'bread is dead, sandwiches are passé. veggie rolls rawk!'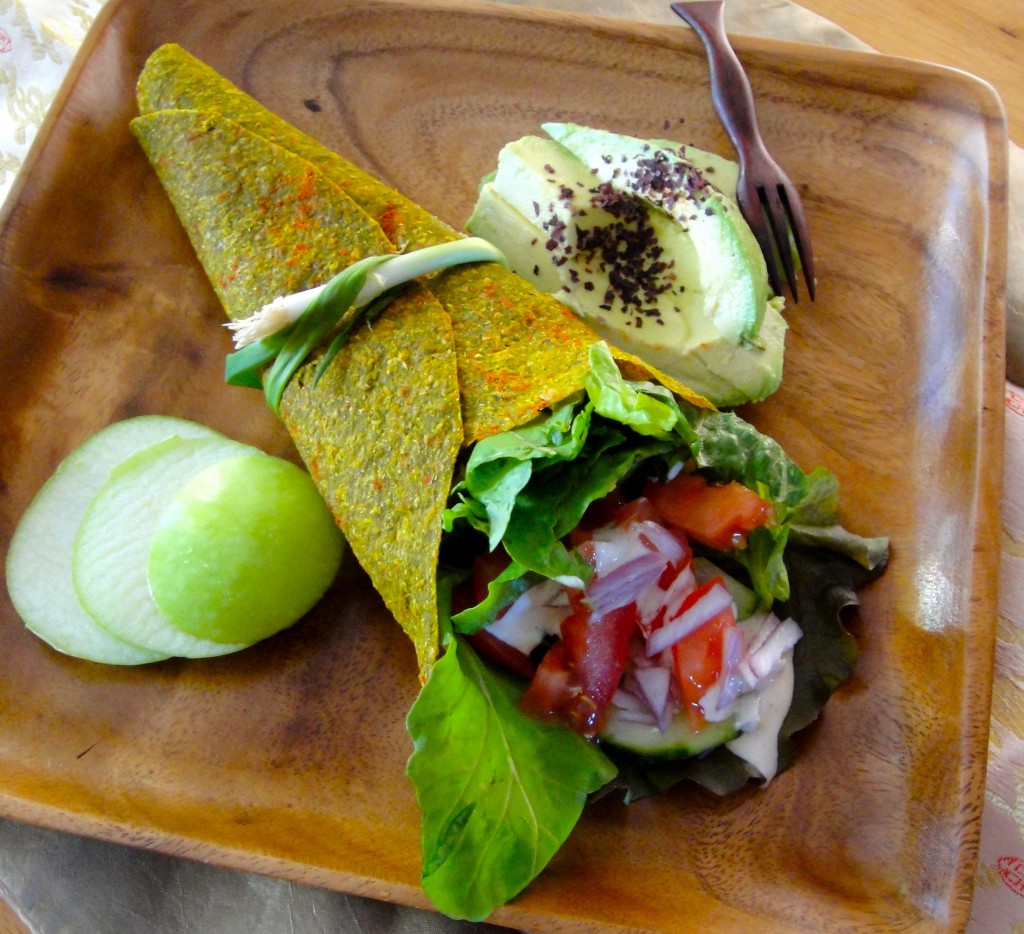 *recipe in nude food
sexy soups
soup is one of those meals that will feed more than the body. it feeds the inner child that wants comfort and love, acceptance and security. it is rainy days on the porch and loving conversations at the table. it is, in one bowl, a thick and lush gift of bounty. it is the bowl that we stand over and breath in deep and give thanks for all that is given, all that is received.
celery cream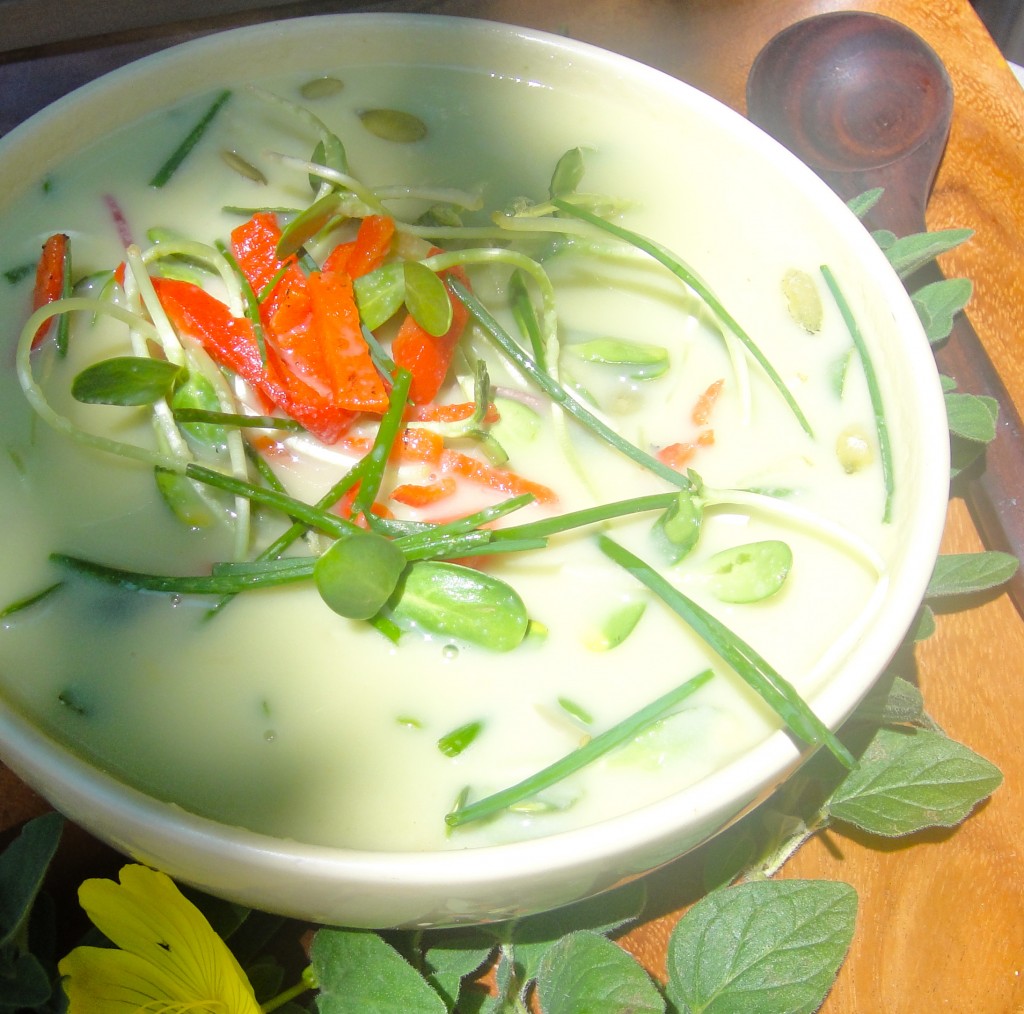 raw summer veggies brings smiles and simplicity, daydreams and freshness. all that energy makes you want to go swimming and sailing, happy and free. we make time to eat, to breathe in the moment. and smile between bites letting out little mmmms and ahhhhs and other cooing sounds for treats grown from earth filled with juicy vibrant love.
ingredients
2 wands of celery
1 avocado
½ lime squeezed
1 c water
½ pear
½ red bell pepper
a small handful of sprouts for garnish a dash of celtic sea salt optional
instructions
1. blend everything until creamy except the ¼ red bell pepper, sprouts and chives
2. dice up remaining red pepper
3. use as a garnish with sprouts and chives from the garden
*recipe in nude food
skinny salads
leafy greens and meaty cabbage, shreds of carrots and grated beets, ribbons of kale and hints of mint, infused herbal dressings and squeezes of lemons and limes, salad is laughter from the earth. the marriage of oil and sun and zesty tomatoes, the heat of garlic, and the refreshment of bright, bold greens. a sexy love festlight. and pass it on.
waldorf wonderland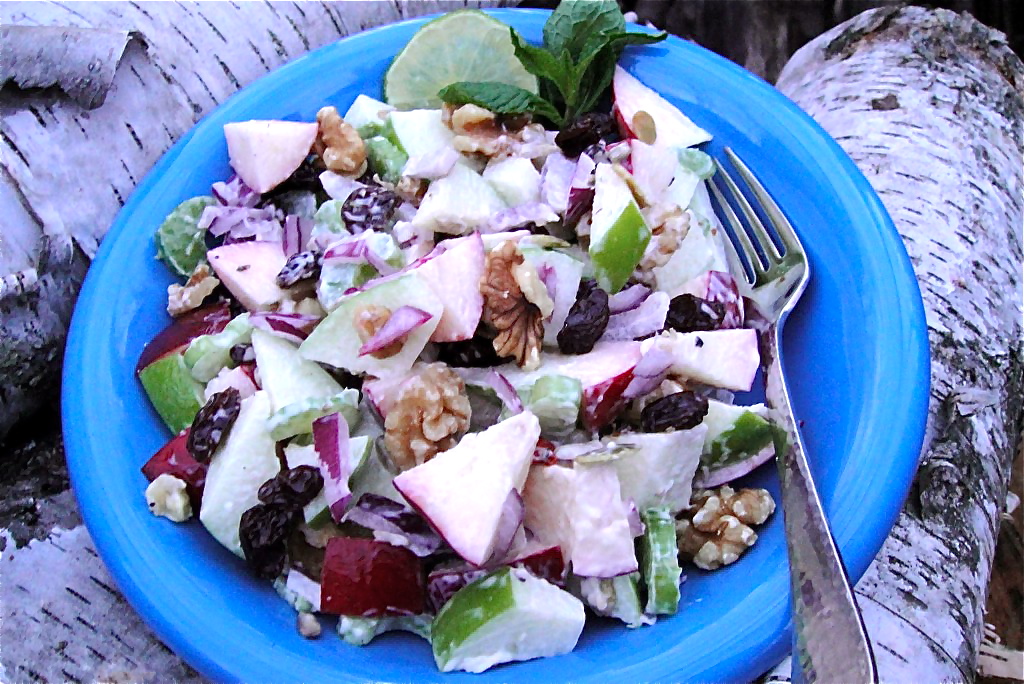 this new classic is a taste of your childhood wrapped up in wisdom, like fairytales…celery is lean and lush with salty liquid earth. its juices will make you sexy and svelte. cascading with the sweetness of fresh apple, chewy raisins, rich walnuts and hot purple onion for variety and adventure, this salad is fruity yet grounding. a trip to a forever wonderland, that place inside that we seek and know is home.
ingredients
1 small jicima peeled and cubed 1 c raw walnuts 4 green apples peeled cored and cubed 3 stalks celery sliced ¹⁄ ³ c raisins, currants or dried cranberries dressing ½ lemon or lime squeezed 1 orange squeezed 1 T olive oil 1 t agave nectar ¼ c raw cashews or pine nuts 1 small clove of garlic a dash of celtic seal salt
instructions
1. blend all dressing ingredients 2. pour over salad and toss with a hint of mint
*recipe in nude food
queen of the earth stars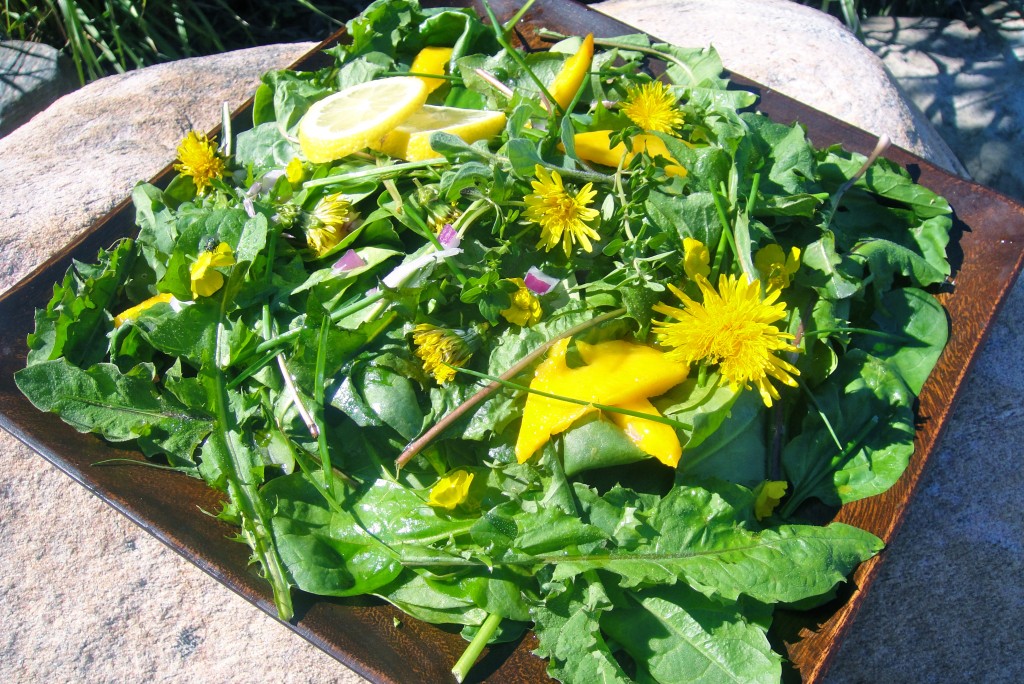 bright, bold yellow star flowers, stem, leaf and root- all life-giving edibles. put a couple blossoms in a little jar like sunshine on your windowsill. healing. bitter. liver lover. powerful. beauty food for big dreamers. the dreamer is the creator. the powerful dreamer lives the powerful dream. she dreamed she was a fairy, sprinkling gold dust wishes. and woke up dancing in a field of yellow earth stars.
ingredients
2 c dandelion greens and a couple flowers a few chives 2 T red onion chopped ½ mango sliced a drizzle of olive oil a splash of lemon juice a dash of celtic sea salt
instructions
1. pick your beauties away from the roadside or spray-happy neighbors 2. soak in a bath of pure water 3. get your hands in there and massage and rinse them clean 3 times 4. pat dry 5. tear into bite size pieces 6. toss life-giving greens into the bottom of a bowl and squeeze with lemon 7. add olive oil and salt 8. toss in fruit and onion and dream like a queen
*recipe in nude food
exciting entrees
meal times are ritual. folding cloth napkins, special plates, lighting the candles and dimming the lights. turning on a little mellow music and gathering around the table in community. our plates piled high with color and abundance; textured rainbows and juicy slices, sweet and spicy gifts from the earth. give thanks and eat well.
blackened garlic pepper mushroom steaks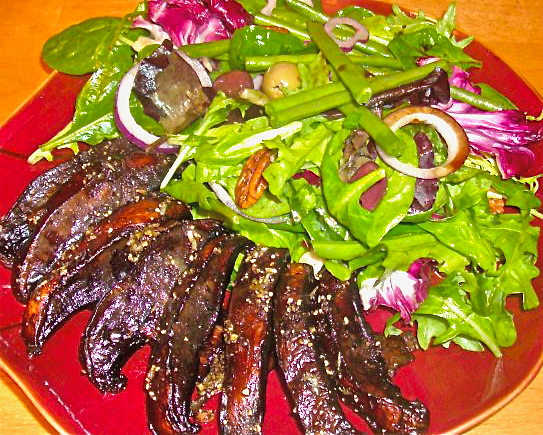 it's a cozy night…the moon is full and the little fire in our heart is perfect. this dish is perfect when you feel like being decadent while at the same time infusing your body with the magical healing of mushrooms and garlic.
ingredients
1 lb mushrooms portabello, or shitake, button or oyster
¼ c nama shoyu or braggs
3 cloves garlic minced
½ t black pepper or to taste
instructions
1. wash your 'shrooms, pat dry, then slice
2. marinate in the rest of ingredients for a couple hours
3. dehydrate at 100 degrees if you have a dehydrator for an hour or so until liquid is all absorbed, or serve as they are already drenched in flavour and aroma of fresh garlic
*recipe from nude food
sunshine golden crust mushroom and leek quiche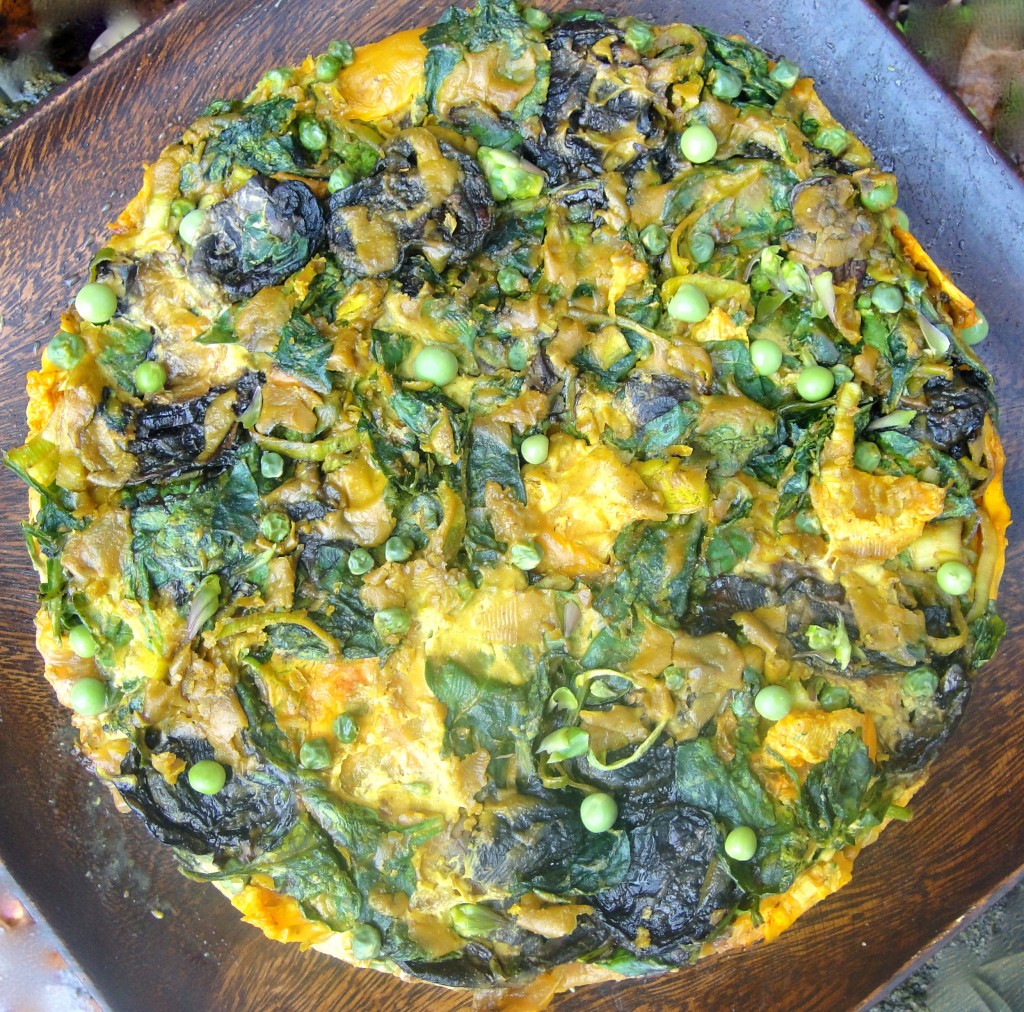 sexy pad thai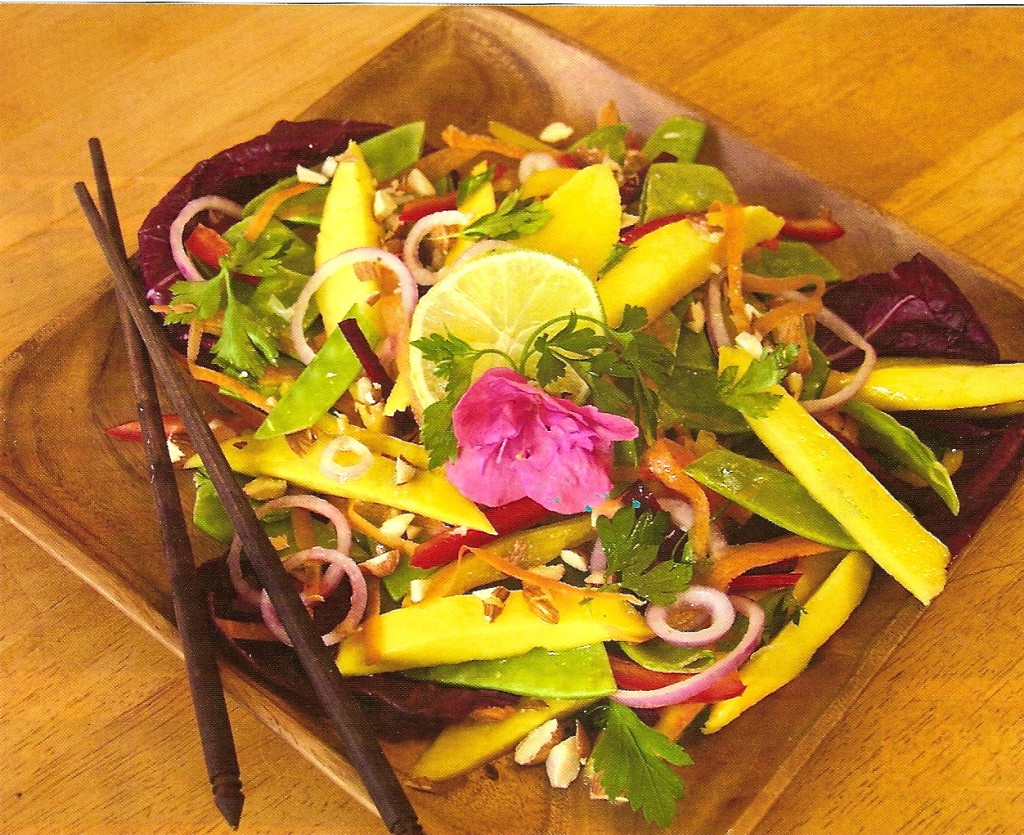 she walks in the morning; each step is a mantra of thanks for the fact that the earth itself holds her up. this is her time, her time to remember that this life is beautiful, each day is a miracle and that we are here to keep our eyes and our hearts wide open.
angel hair zucchini pasta primavera
it's all about passion. being in love with life, but most importantly being in love with yourself. treating yourself with beauty, living with passion and honoring your miraculous body temple with what the earth grows. so you can thrive in joy, in bliss, and spread your magic far and wide.
ingredients
1 large green or yellow zucchini 12 black lives pitted 1 c tiny broccoli florets 4 sun dried tomatoes sliced 1–2 tomatoes finely diced 1 T balsamic vinegar 1 clove garlic minced 2- 3 oyster mushrooms sliced a pinch of sea salt and cracked pepper a sprinkle of oregano to taste
instructions
1.  to make this amazing dish a little hand cranked device called a spirooli is recommended, but if you don't have one yet just grate the zucchini or even peel it with a peeler for a flat 'fettuccine' type 'noodle' 2. toss everything and drizzle olive oil on top or for a creamy dreamy alfredo saouce:
mama's manicotti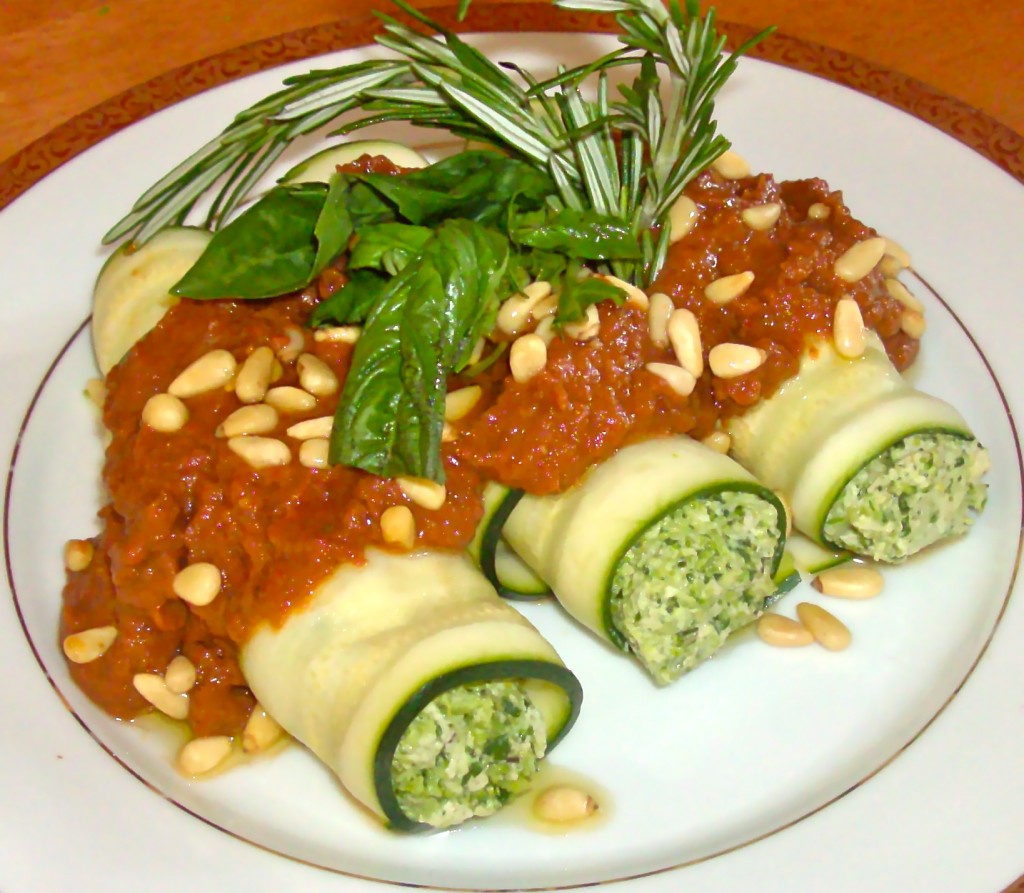 My husband is Italian and traditionally has had Manicotti for Christmas.  I experimented, and came up with a Raw, vegan version that is as DELICIOUS and savory without the greasy pots and pans.
*recipe in nude food HERE
gluten-free golden herb garlic bread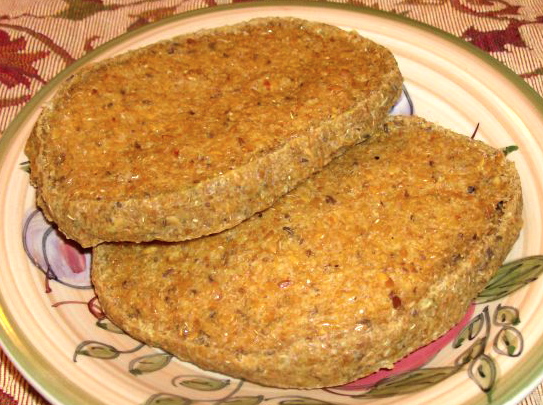 homemade dill 'n garlic pickles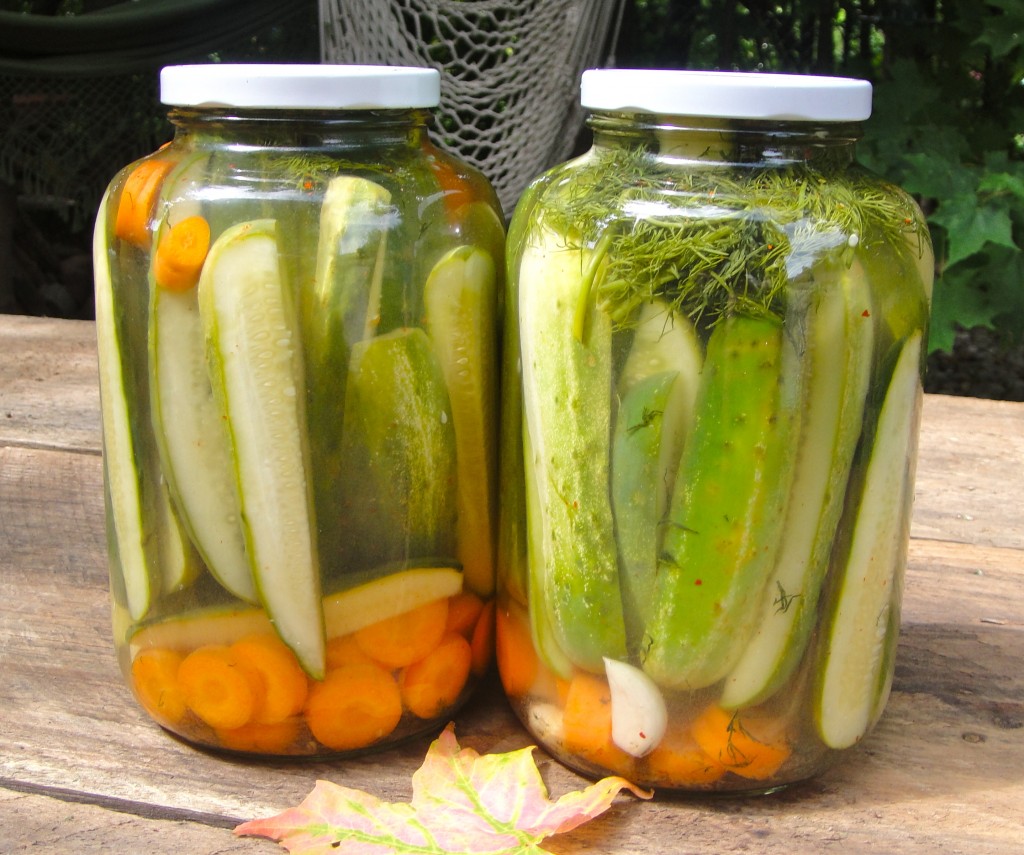 Making delightful, crunchy pickles is a snap!
First, you harvest from your garden or visit your local farmer's market and select those miniature cucumbers only availble in summer- green wands of juicyness. Second, you hold them to your heart and give thanks to mama nature for these food jewels you love that will love you back. Then, you lovingly wash them and slice them in spears, longways (or discs, its always up to you.) Next, snip some fresh dill from your herb garden, thanking the plant for its offering, and rinse and dry your bundle of flavor. Next, peel some gorgeous garlic (lots!) and place into the bottom of a nice big jar, with the sister dill to keep company. Next, line up the little spears and add some carrot rounds if you wish, for color and crunch. Then, add about 1/4 apple cider vinegar and a teaspoon of Celtic Sea Salt and fill the jar up with pure water, and your love. Lastly, lid the jar and put into the fridge. In-Joy your summer blissing in a couple days.
wise woman slaw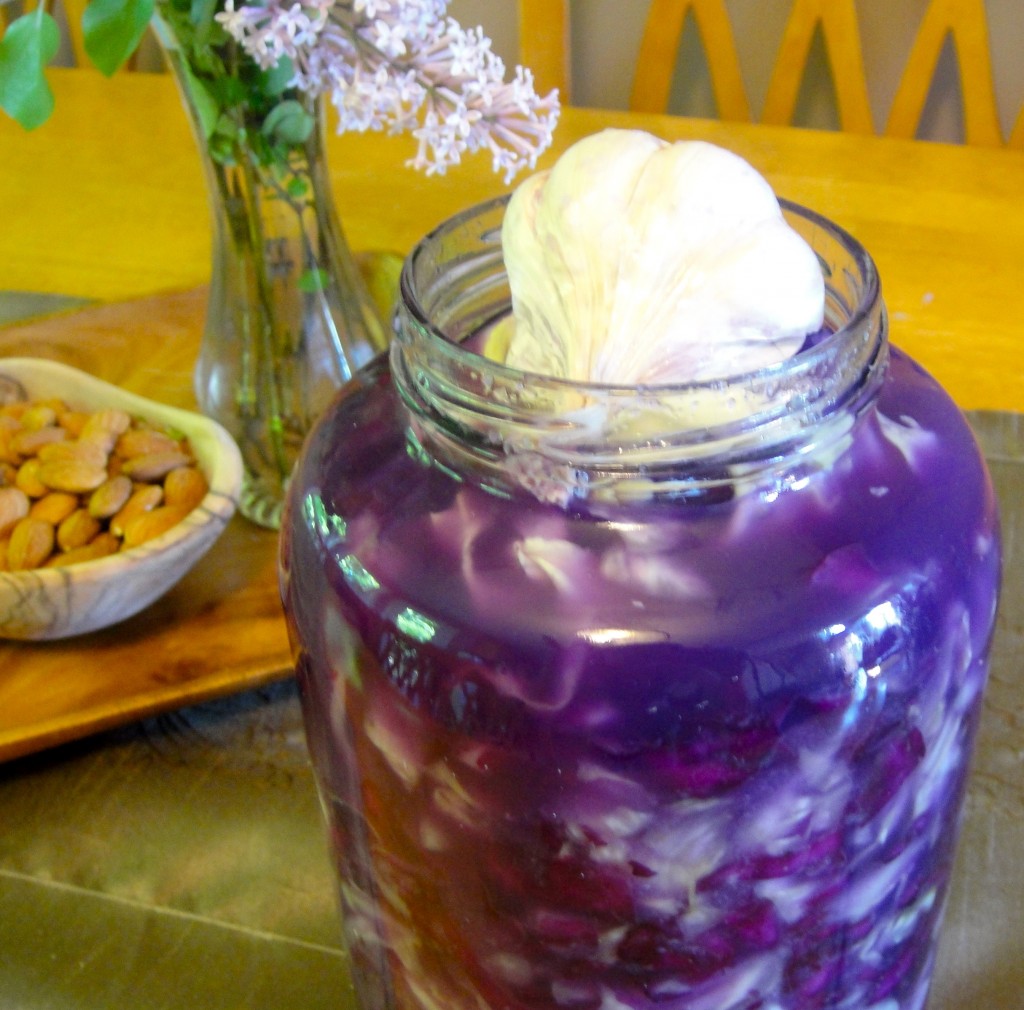 Cultured vegetables are available commercially at most natural foods stores but I find them a bit pricey and prefer to make them myself and you will too once you know how. It is fun and easy.
ingredients
1 cabbage, red or white, Nappa or mixture (purple cabbage will turn pink when it ferments) 1 head cauliflower optional Many veggies can be cultured with great success for more nutrition and digestibility. You can use beets which are great for the liver, sea veggies like wakame and arame, kale, collards, apple or red pepper, or other radishes besides daikon, carrots, parsnips, turnips etc Spices and dried herbs add something special: I like caraway seeds, chili flakes, garlic and ginger.  Celery juice makes a great brine too.  But to just get started, go basic and just try cabbage and water with salt so you get comfy with this first before experimenting.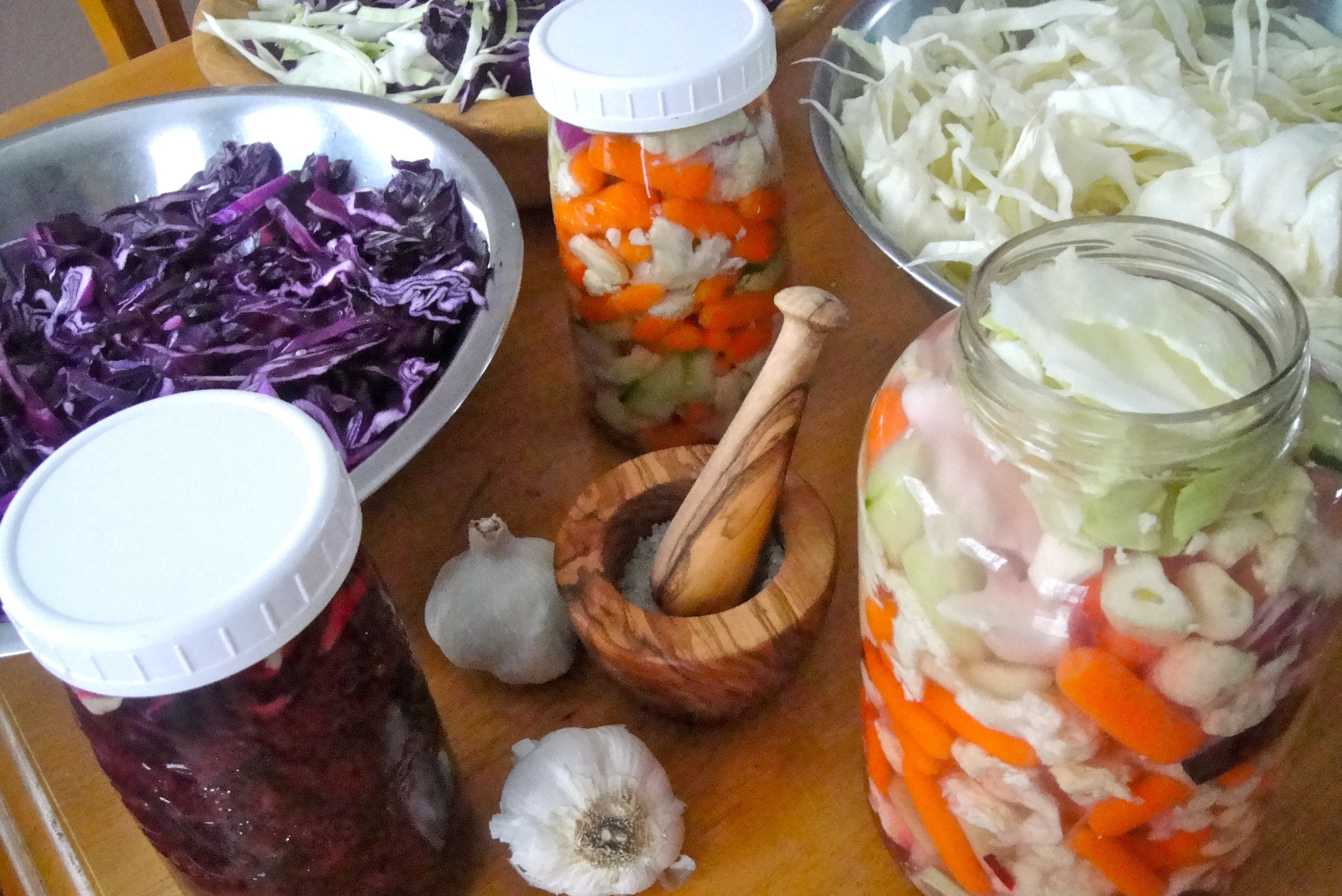 instructions
Clean all vegetables well and then chop or use a food processor to shred everything. Mix vegetables in a bowl. Massage them well with your hands, squeezing them until they begin to release their juices. When your bowl of veggies has been reduced and is sitting in liquid, pack vegetable mix tightly into glass jar(s). When the jars are full with about 1 -2 inches room at the top, use a wooden spoon to pound the mixture down and then add some more veggies. (Always leave 1-2 inches at the top of the jar so the fermented veggies have room to expand. I use 2 quart size jars.) Then add the liquid or brine which is a mixture of good quality Celtic or Himalayan salt, about 2 T and water. I also add a few leaves of cabbage that were from the outside that I could have thrown away- instead they help take up the space at the top and still leave room for expansion. Pour brine over the veggies, leaving breathing room for expansion. Cap tightly and leave at room temp for 2-4 days, then move to the refrigerator for storage. I 'check in' every day and release the cap to let the built up fermentation gases escape, and re-seal air-tight. These keep very well and are great to have on hand in the fridge. You can eat them alone as a condiment, or add them to salads, sprouted tortilla wraps, etc. I love them with a little olive oil, some turmeric and dulse sprinkled over top, with avocado.  I munch happily away with my chopsticks.
*for more radiant raw recipes pick up your copy of nude food HERE 

decadent desserts
decadent and rich, light and fruity, whatever it is, we deserve the sweetness in life. choosing sweet treats that are made from the earth's treasures will bring you higher and higher, expanding you to open yourself to the sweeter things in life, the passion of love, and the creative energy that lives in every one of your cells. in-joy! 
shakaya's sublime key lime mousse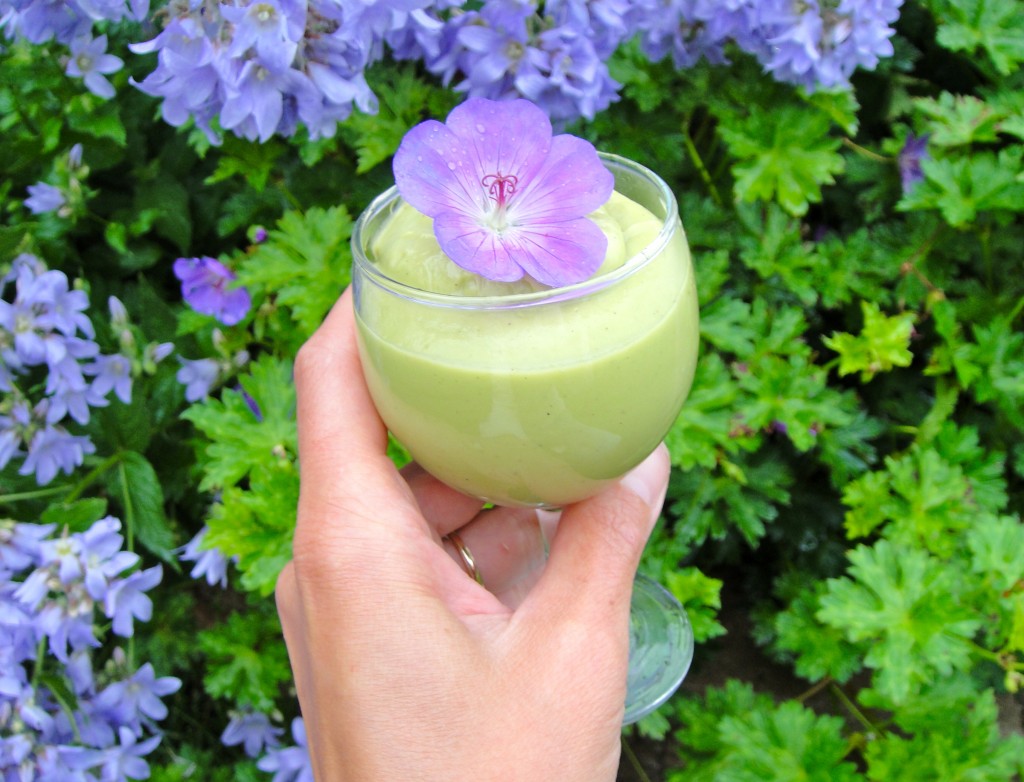 squeeze limes, into a juicy pool of goodness. the scent of citrus fills the air and entices him to peek over your shoulder. swirling a creamy, delicious dab of green goddess vibrancy, he licks it off your finger. is it too sweet or too tangy? you loosen your silk scarf from your hair and wrap it around his neck to pull him close, very close. you whisper to him that you are taking him somewhere exotic. somewhere fresh. somewhere he has never been before. he agrees.
ingredients
½ c fresh lime juice 2 ripe avocado ¼ c agave nectar, raw honey or 8 pitted dates ¼ c baby spinach optional a dash of pure vanilla powder
instructions
1. process into a silk so smooth and creamy bringing all the tangy goodness together 2. enjoy as a fun-do to dip fresh fruit slices in to, or layer with fresh berries in a tall parfait glass.
*recipe in nude food and sweet seductions
persephone pommegranate peace pie
crust
2 C almonds
1 C walnuts
2 pitted dates
1 t olive oil
1 pinch of celtic sea salt
Process until crumbly in the food processor. Form into a ball and press into pie plate.
filling
8-12 apples peeled and cored and quartered
1 C fresh cranberries
2 T raw honey
2 T lemon juice
2 T psyllium husks or ground oats to firm
1 t cinnamon
Process everything except the cranberries to a chunky or smooth texture- your choice. Pour into chilled crust.  Process cranberries and 2 T Agave Nectar.  Smooth over pie and garnish with halved cranberries, pommegranate seeds, and/or apple slices.
*recipe in sweet seductions
                *recipe available in Sweet Seductions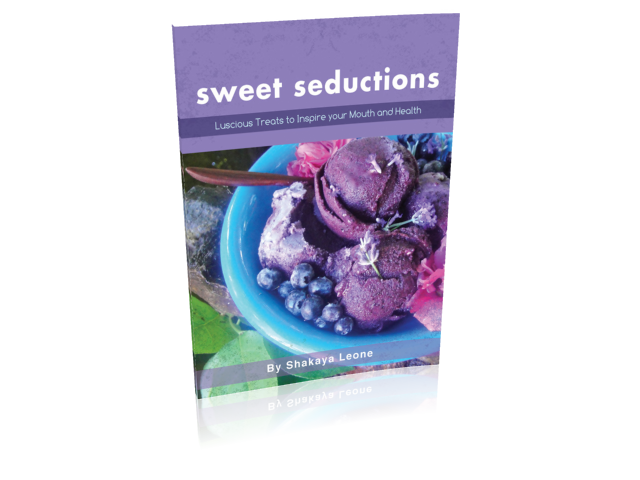 vegan banana peanutbutter icecream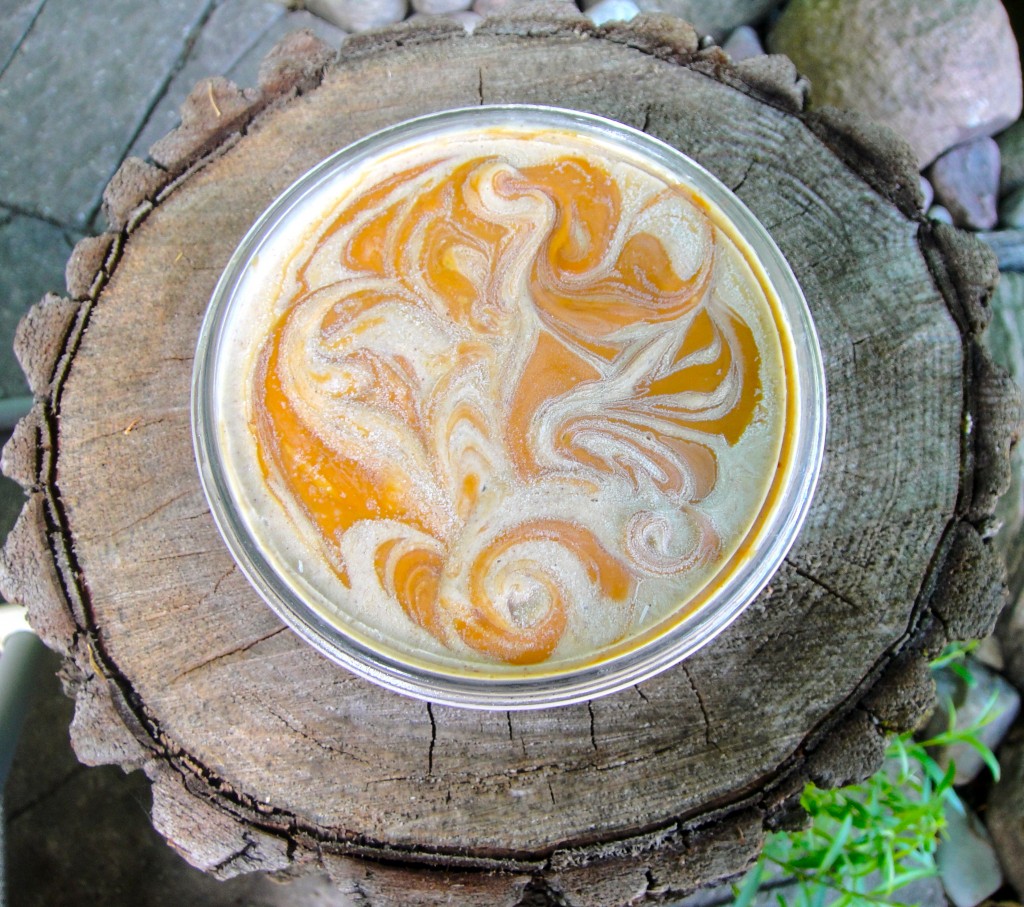 *watch recipe video here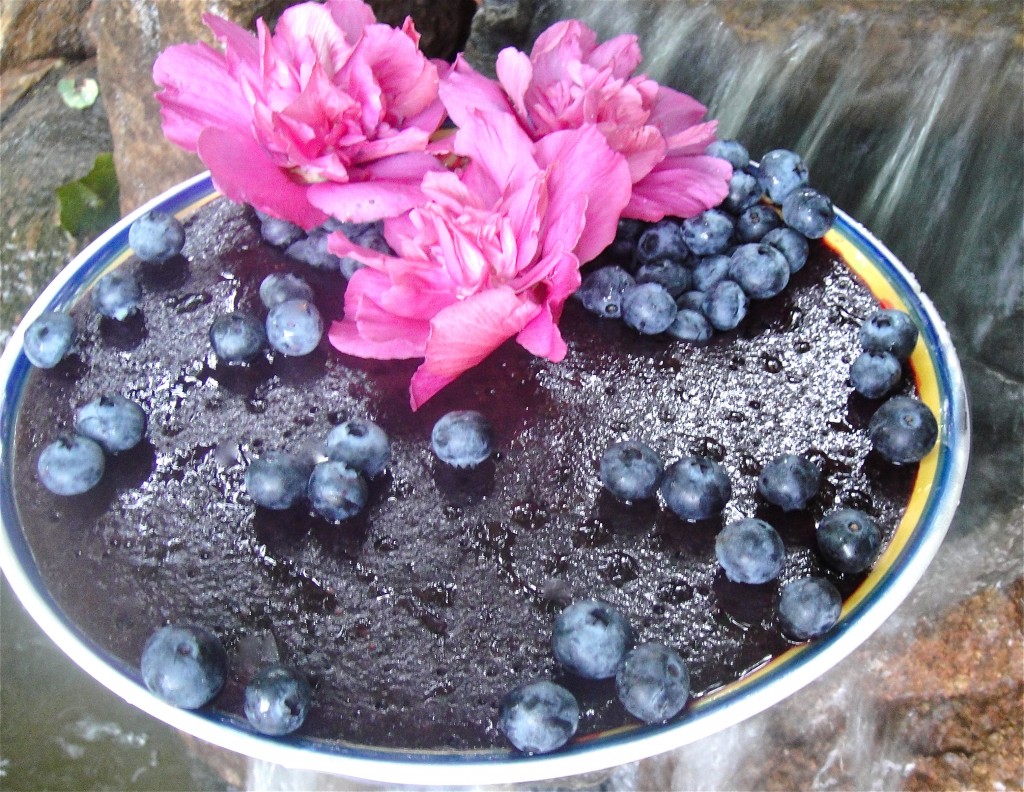 Ooooh there's something about picking blueberries that makes a girls feel so fresh and sensual…toss them in a blender, pour in a bowl and let Nature caress her magic…in a couple hours VOILA! Blueberry jello forms from natural pectin in the berries.
*recipe in Sweet Seductions
caffeina capacino cheesecake

crust
2 C Pecans 1 C dried Black Mission Figs de-stemmed and soaked in water for 1 hour. Pat dry. 2 T Cacao Nibs 1 T Coconut Butter pinch of Celtic Sea Salt PROCESS everything lightly into a ball.  Press into a pie plate.  Chill while you make the filling.
filling
4 C raw Cashews soaked in water for 2 hours, drain and rinse 1/4 C Coconut Butter softened but not liquid 1/4 C raw Honey 1 T Dandelion Blend natural coffee substitute PROCESS all the ingredients until smooth and creamy.  Pour into the crust.  Smooth until flat.
mocha swirl
4 T Agave Nectar or liquid Honey 1/2 t Dandelion Blend powder 1 T Cacao powder Mix thoroughly.
method
Dot the mocha sauce onto the pie filling in a random pattern about the size of a quarter each.  With a chocpstick, make swirling figure 8's into the dots. Caveat- Less is more.  Chill the cheesecake in the freezer until firm.  Let stand for 5 minutes before serving.
*for more VEGAN desserts that are GLUTEN-FREE, see Sweet Seductions
raspberry swirl fro-yo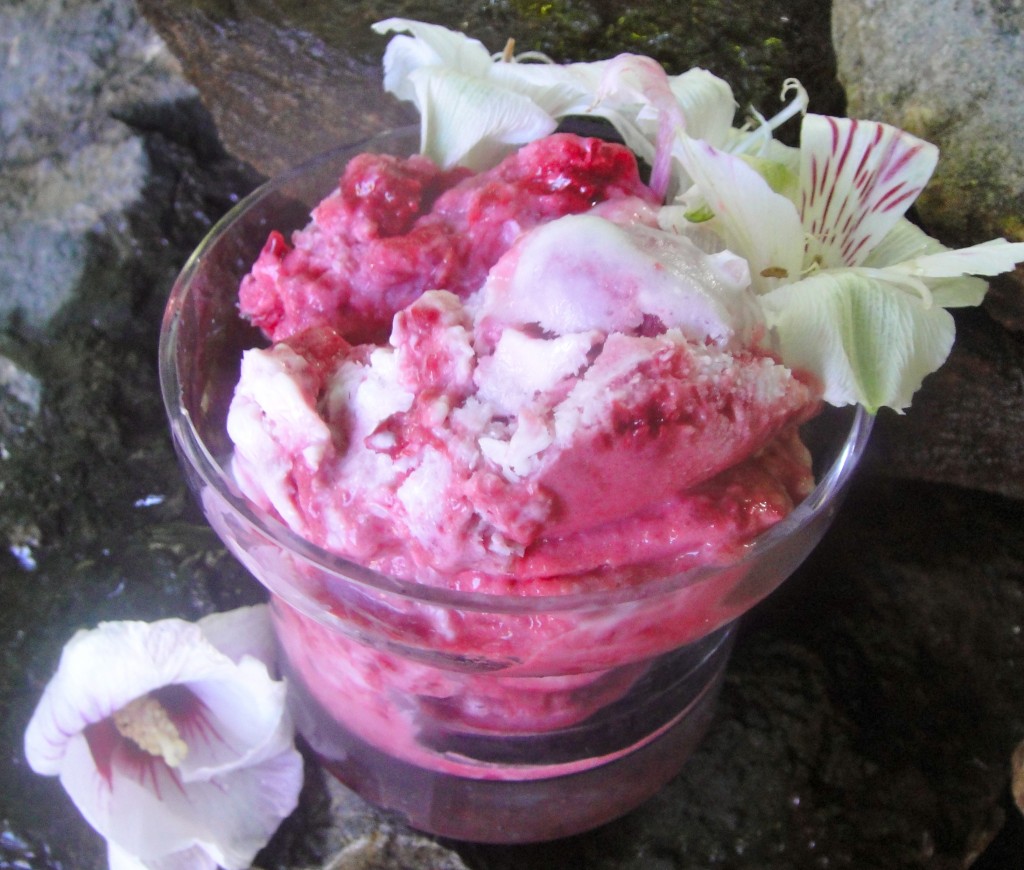 *recipe in sweet seductions
treasure cake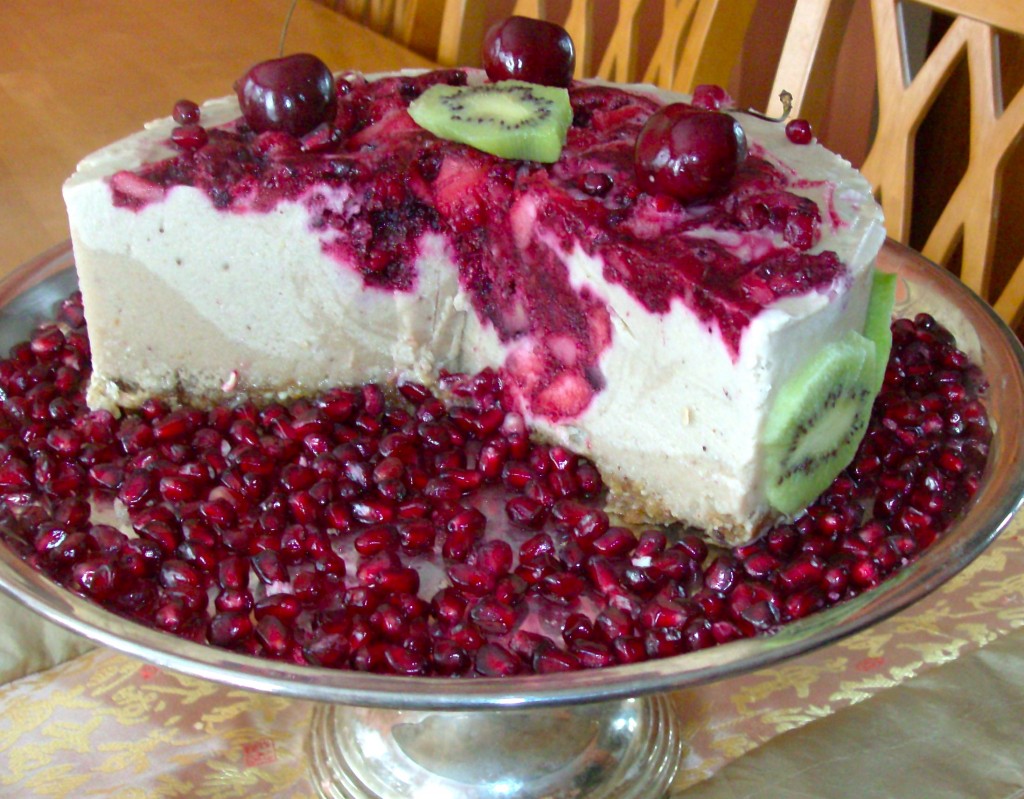 *recipe available in sweet seductions
pilinut chocolates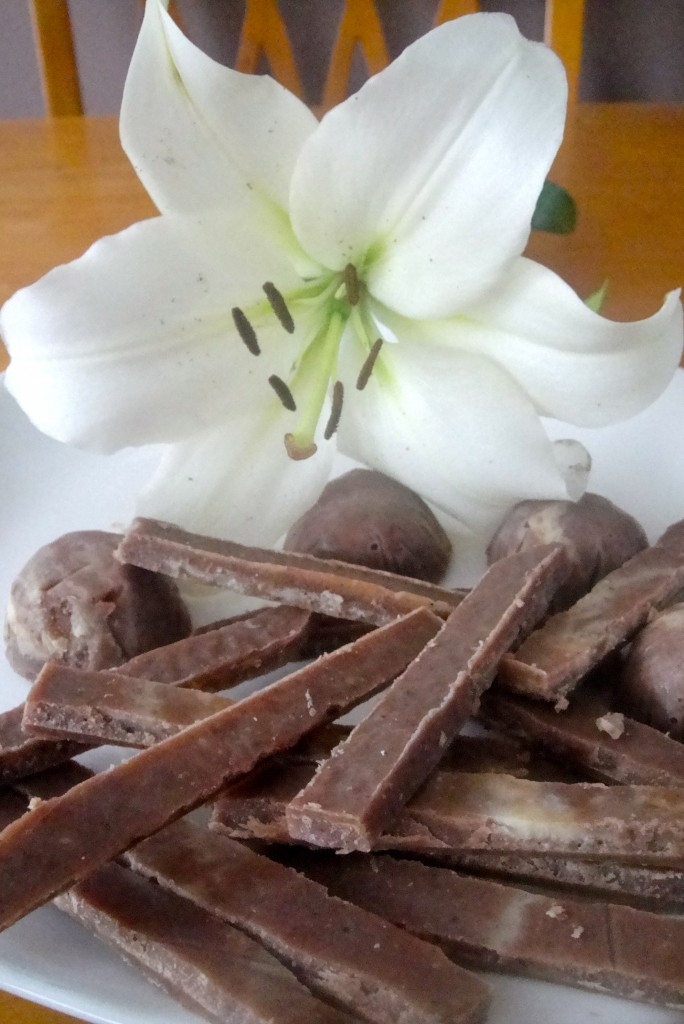 I know, another teaser~ recipe available in sweet seductions
honey golden gluten-free baklava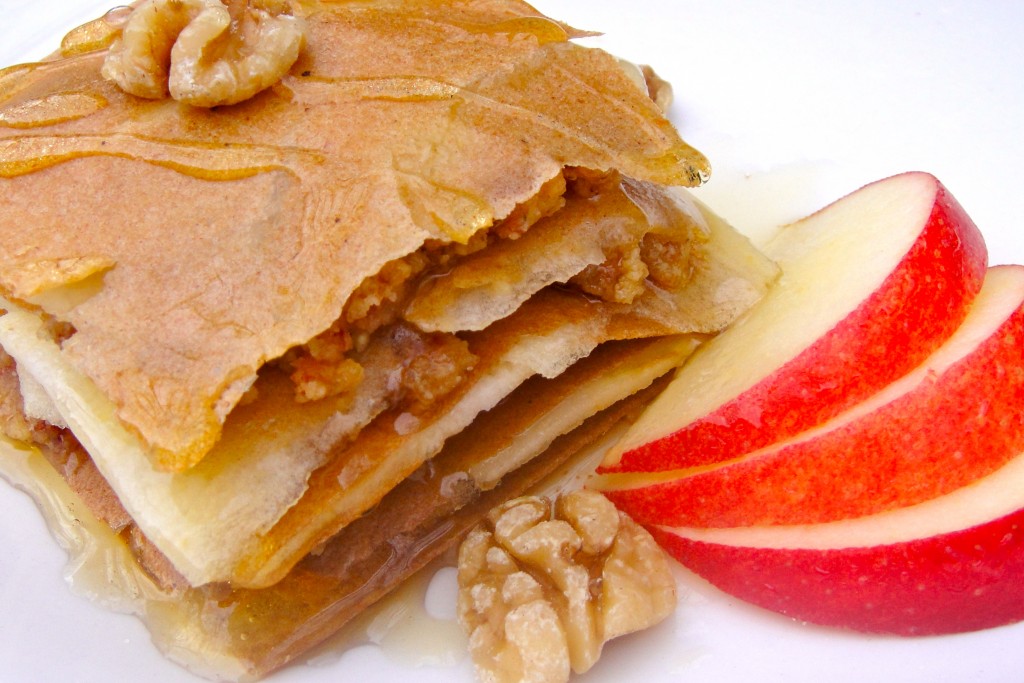 *recipe in sweet seductions
rawberry ripple cheeky chesecake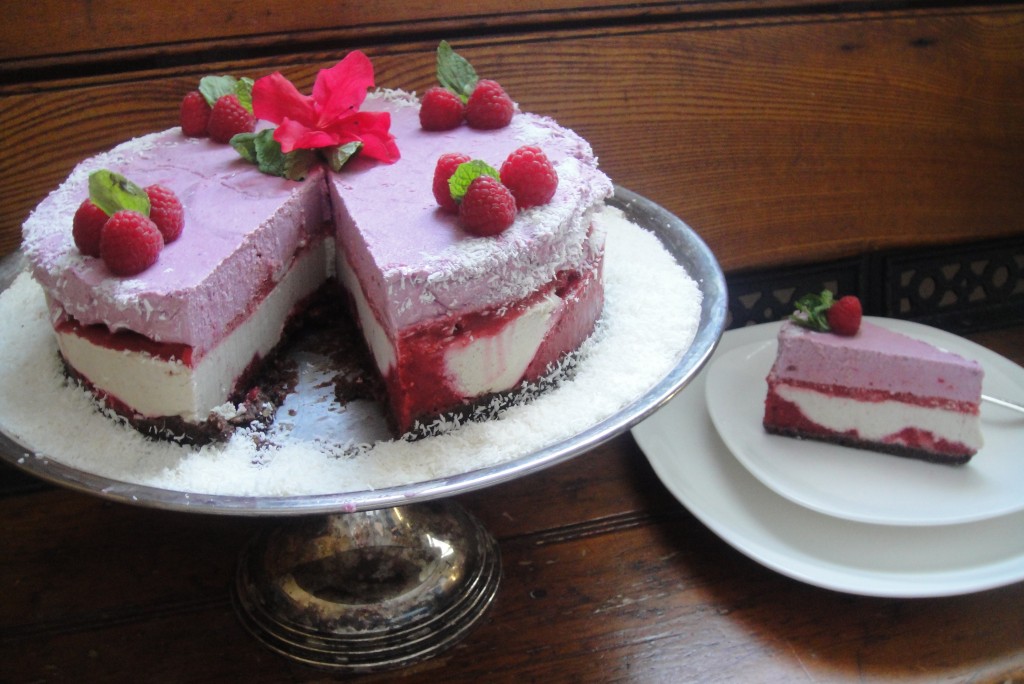 This no-bake double layer cheesecake beauty is dairy-free, gluten-free, and so fun to build and decorate!
*recipe in sweet seductions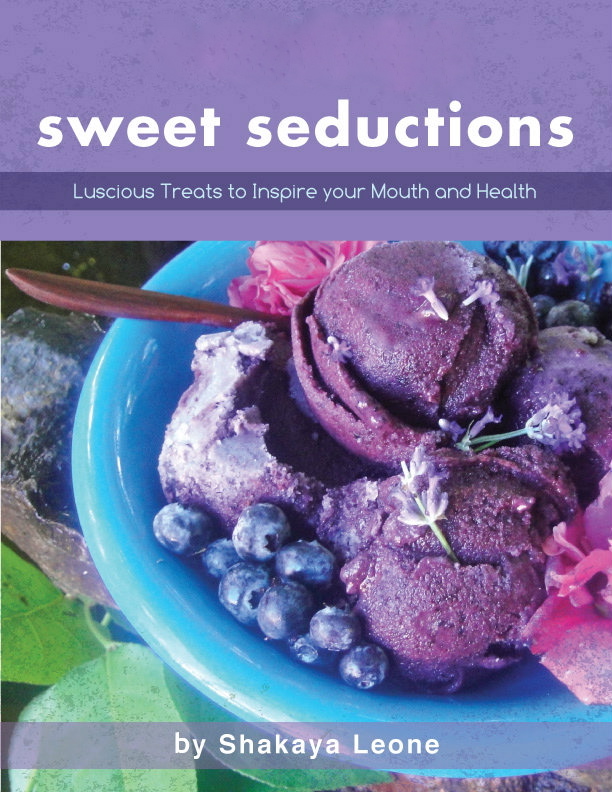 Bon Appetite!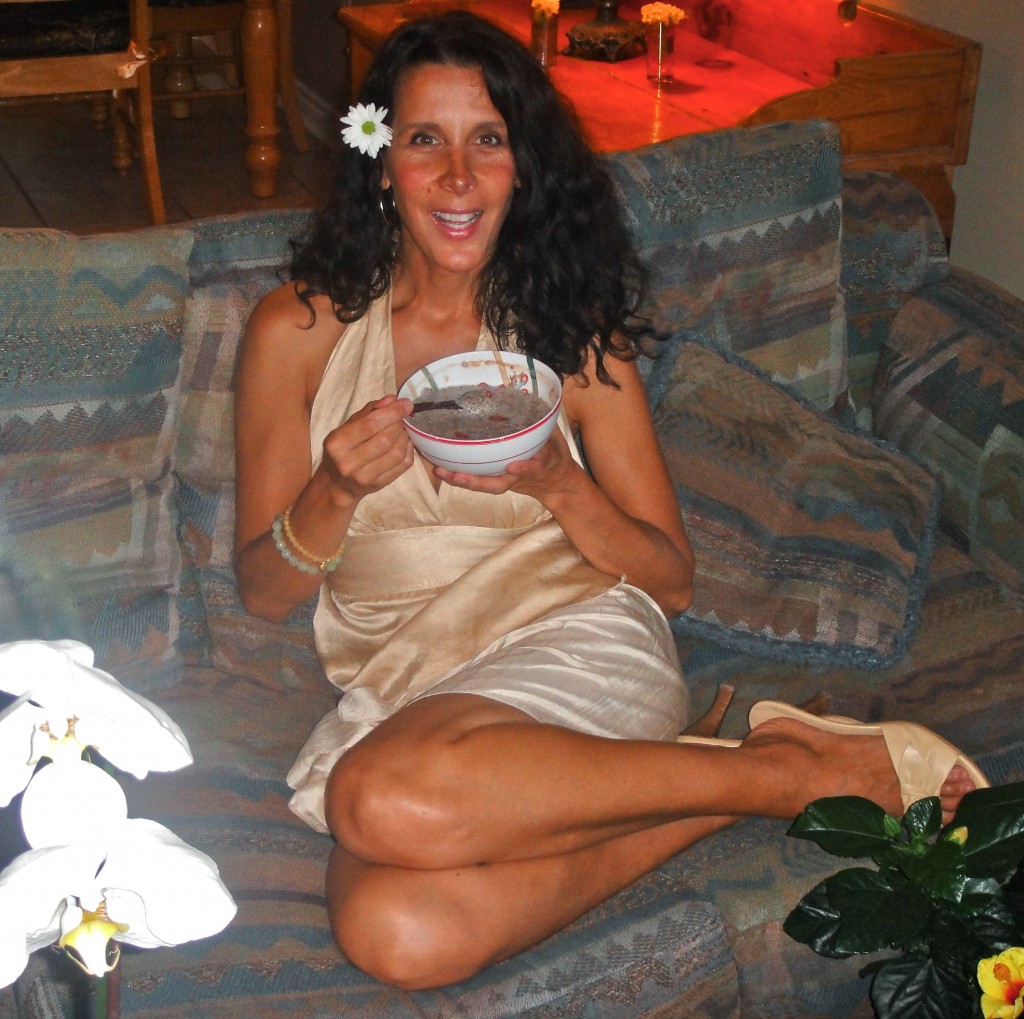 Food is a Love Letter You Give to Yourself!
Shakaya Leone is an Earth Empress who elevates a woman's life into an experience of radiant, feminine, sensual beauty.Shakaya is the author of Naked Beauty, Nude Food and Sweet Seductions. Shakaya is creator of World Detox Day and the founder of Earth Empress, a business dedicated to inspiring women to embody their true beauty through Exquisite Self-Care and Raw Food.www.earthempress.com