You can Rejuvenate your Body 
In 7 Simple Steps
This is the FASTEST and EASIEST Renewal Program for PROVEN Results!
See how easily you can safely and quickly RELEASE extra weight, Look YOUNGER and DOUBLE your energy in only 21 Days!
Your body will REJUVENATE
 $197

The FASTEST Way To Transform Yourself
For the first time ever I am revealing my Step by Step Program to:
* Release Extra Weight

* Double your Energy

* Cleanse and Rejuvenate your Body
So YOU can feel more Alive and Sexy than ever, FAST!
Discover the RIGHT way to Detox your Body
Over the course of 21 days I'll show you STEP BY STEP exactly how to gradually Detox your body.
And once you know the System, you'll be able to REJUVENATE your body ANYTIME you wish, for LIFE.
HOW DO YOU KNOW IF THIS PROGRAM IS FOR YOU?
If you are READY to:
| | |
| --- | --- |
| | Discover how to achieve and maintain your IDEAL weight |
| | Curb your Cravings from the 3 main foods that set them off |
| | Discover the Easiest way to add in more Raw Foods to your Diet |
| | Have a simple STEP BY STEP System that shows you EXACTLY what to do |
| | Discover the PRACTICAL laws of Renewal that not even Doctors or Raw Gurus are talking about |
| | Be in HARMONY with your body's Natural Cycles so your Metabolism works FOR you, not against you! |
| | DOUBLE your energy- you won't believe how fast this happens! |
| | AMPLIFY your natural Beauty and Radiance through Detoxification |
| | Look and feel 10 years YOUNGER in 3 weeks |
| | END the Deprivation-Binge cycle for good! |
| | Feel so ALIVE and energized all day, everyday |
| | Stop spending money on Supplements you DON'T need |
| | End CRAVINGS, BLOAT and OVEREATING |
| | Stop STRUGGLING with your Diet and ENJOY Healthy, Fresh Foods |
| | Be CONNECTED to your Body and have a healthy relationship with food |
|   | End confusion and overcome feeling STUCK through this simple system |
SAVE yourself wasted hours, effort and money trying Diets that aren't grounded in the Laws of Nature- and simply CAN'T work!
The Body Cleanse is THE Go-To Detox Program for gentle, effective, FAST results!
You will discover the 7 Steps to Health and Rejuvenation, and APPLY them each week to see YOUR desired outcome.
There are 3 weekly ONLINE Audio Classes.
You will be able to GRADUALLY integrate in the steps without being overwhelmed 🙂
This online course gives you the clear, scientific-based, ancient laws of health and the tools you need to implement these LIFE-CHANGING steps.
Cleansing is Surgery without the Knife
This HIGHLY EFFECTIVE cleanse is practical, safe and easy to do in the comfort of your own HOME.
The BODY CLEANSE will eliminate your FRUSTRATION around Weight Loss and Health (no matter what your diet!)
WARNING SIGNS your Diet isn't working for you and your body needs to Detox:
| | |
| --- | --- |
| * | Uncontrollable CRAVINGS or blood sugar issues |
| * | Not enough energy to ENJOY exercise |
| * | Poor SLEEP and awakening EXHAUSTED |
| * | Inability to concentrate, FOCUS or remember things |
| * | Inability to lose EXTRA weight no matter what you do |
| * | You feel OVERWHELMED, tired or IRRITABLE |
| * | You have food allergies, bloating, constipation, headaches, water retention or skin ISSUES |
| * | Sluggish IMMUNE SYSTEM |
| * | Chronic NEGATIVE thoughts and emotions |
| * | You feel and look OLDER than you would like |
| * | Your diet isn't as nutritious as you know it could be |
| * | Adrenal fatigue from exhaustion and TOXIC overload |
| * | Joint pain and body ACHES |
| * | Yeast INFECTIONS or painful menstrual cycles |
| * | Frequent flus, colds, sinus infections or seasonal ALLERGIES |
| * | LOW energy |
LAURA TOOK HER BODY TO A WHOLE NEW LEVEL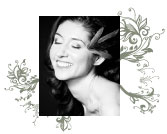 The Body Cleanse was spectacular! I was absolutely blown away by how much I learned in The Body Cleanse. I consider myself to be a healthy person, but this experience took everything to another level. I now feel like my iconic body is taking shape! Thank you Shakaya for sharing your brilliance in such a beautiful way.
Laura Hollick
soul artist and CEO of Soul Art Studio Inc.

SIMPLE ADJUSTMENTS ARE TRANSFORMING ANNE'S HABITS FOREVER
It was a great pleasure for me to follow The Body Cleanse! I learned how to make a few simple adjustments in my eating habits, plus healthy food substitutes, which are beneficial for my lifestyle. For example, I now warm nut milk as substitute for coffee and I include spices to help me warm up in cold weather. Although it was hard for me to go completely raw, I found Shakaya's recipes very helpful and delicious! So now I will continue my raw breakfast and occasional raw lunch, at the very least, everyday.
Anne, who is going to miss connecting with you now that The Body Cleanse is finished!

AMAZING RECIPES!
Over the years I have probably tried more raw recipes than any of us could count. I own every recipe book every printed, I swear! You have no idea the amount of food I have wasted and how well-fed my compost pile has been as one after the other they were just 'gross'. Some tasted like dog food, some were bitter and awful, some were just nasty, or so boring I fell asleep eating them. But YOUR recipes are always good. I mean it. I can print off any recipe of yours and put it on the menu with confidence that I will like it. Maybe our taste buds were created similarly, who knows?
Anyway, thanks for having such a sensible palate!
Kelli

I HAVE PRETTY MUCH ELIMINATED SNACKING!
I was looking for a way to improve my eating habits and increase my intake of raw food in the most effective way possible. I was looking for something simple to follow but effective and delicious. The Body Cleanse was all that and more!
I think the simplicity of this program is what really works! Before when I was trying to be 'really raw' it became a bit of open season on raw food as I would eat a lot of raw food ie much more than I probably needed, more nuts and seeds, dried fruit, maybe more desserts – I was doing that fearing cravings so I was trying to get a head of them – but by eating simply with the structure of The Body Cleanse, it seems to be having the exact result I have been looking for. Amazing!
I can't tell you how excited I am at how well things have been going – just easier than it's ever been before with Shakaya's system! I have finished my first all-raw day and also have pretty much eliminated snacking which is fantastic!
Thank you, thank you, thank you!
Irene

I can't believe how my health and energy has improved!
I have been doing very good on your body cleanse here in Paris.
It's good, because I started juicing a lot and have kept this habit until now, which is pretty amazing! I'm really happy that I got to learn about it so much…
I find it really curing, when I feel bloated or have stomach cramps (I have a very sensitive belly in general…). I used to take all these bad pills, such as anti-acid pills before…. So I don't need them anymore and I am really happy that I can cure myself naturally.
Also, I have noticed that my energy is just going more and more up. I have tons of energy to do my morning yoga practice at 6am (whereas before I could barely wake up before 8 or 8:30 am). I have also energy left in the evening… I can't believe how my health and energy has improved !
It's great because I completely stopped exercising a year ago, and your program just put me on the right track and gave me the strength, energy and will to do yoga again, run, go outside and ride my bike, or just do things in life, instead of sitting in front of the tv, binging on food.
Besides that, I have also noticed that my skin much much clearer! It took some time, but now I can definitly see the results. I used to have acne (little spots here and there, especially before my period). Now I have none!
I love also all the detox recommendations that you give through out the program and have managed to stick to the raw food diet for more than a month after! Amazing!!!
Your program has definitly showed me the easy way to get myself into rawfoodism. Since then I haven't stopped researching on it and reading books. I even created a blog here in Paris, for French people to know about it! You really inspired me in many ways! I owe you a big THANKS! Thank you again for your great program and care!
Sonia T.
Dana healed a lifetime of Asthma and Eczema
The Body Cleanse was the catalyst I needed!

I have been 80-100% raw for the last three years but I always struggled with terrible eczema and asthma from my teenage years.

I could not go anywhere without my puffer, and the eczema would flare up with any form of sugar to cover 80% of my body (including my face).  It would feel as though I dragged it sandpaper on my skin.

Learning to combine raw foods PROPERLY allowed me to have tremendous energy and much better digestion!

Before, I could never do more than 48 hours of juicing in the past attempts of a cleanse.  I would become so ill that I was unable to care for my four children.

Not the case with your cleanse!

I did the clay packs in the bath with some of your previous bath soaks (I believe it was the Mermaid one), and also combined turmeric into the clay pack as well as Castor oil to help with my colon troubles.

Since your cleanse, I have not had a severe flare up!

Also astounding to me is that I didn't use my puffer for seven months!  I didn't even take it to Maui with me!!!  (this picture is shortly after The Body Cleanse).

The other fantastic thing is that the eczema never returned in the same way.  I used to cover my face with prescription cortisone steroid creams.  My hands used to be covered in it which was very painful and embarrassing and just hard to deal with doing "mom" work.

I really enjoy all your positive quotes and your deep love of feminine beauty.  Thank you for all your lovely work and research.

I now have the tool I need to be able to do safe cleansing, and keep my body free from these ailments.

Dana
This is truly the GO-TO Detox program that WORKS-
no matter how busy you are!
In this program you will also learn:
The TRUTH about why even most raw food diets fail and what to do about it
Why you don't need to be 100% RAW to be vibrantly healthy
The KEY principles of high level health, no matter what diet you are on
The 5 foods that you NEVER want to put into your body
How to release those stubborn 10- 20 pounds (even if you have tried everything else!)
The BEST way to do a Rejuvenation Cleanse
How to easily overcome fatigue and DETOX SYMPTOMS
How to restore your body's alkalinity, which is ESSENTIAL for long term health!
This EFFECTIVE Detox you can do in your own home- I have for DECADES because it WORKS.

The course includes the recordings, templates and recipes, all delivered conveniently online.
You have the power to create your health and body as you wish.
Not someday. Starting TODAY.

your investment $197
Disclaimer: We make every reasonable effort to ensure that we accurately represent our program and its potential for transformation. However, we make no guarantee that you will receive the results of our other clients, and by agreeing to use our program you accept the risk that transformation will vary by individual and cannot be guaranteed in any respect. The actual results you experience will depend on a number of factors over which we have no control, including your individual effort, committment and unique circumstances. You agree that we are not responsible for your failure or success.