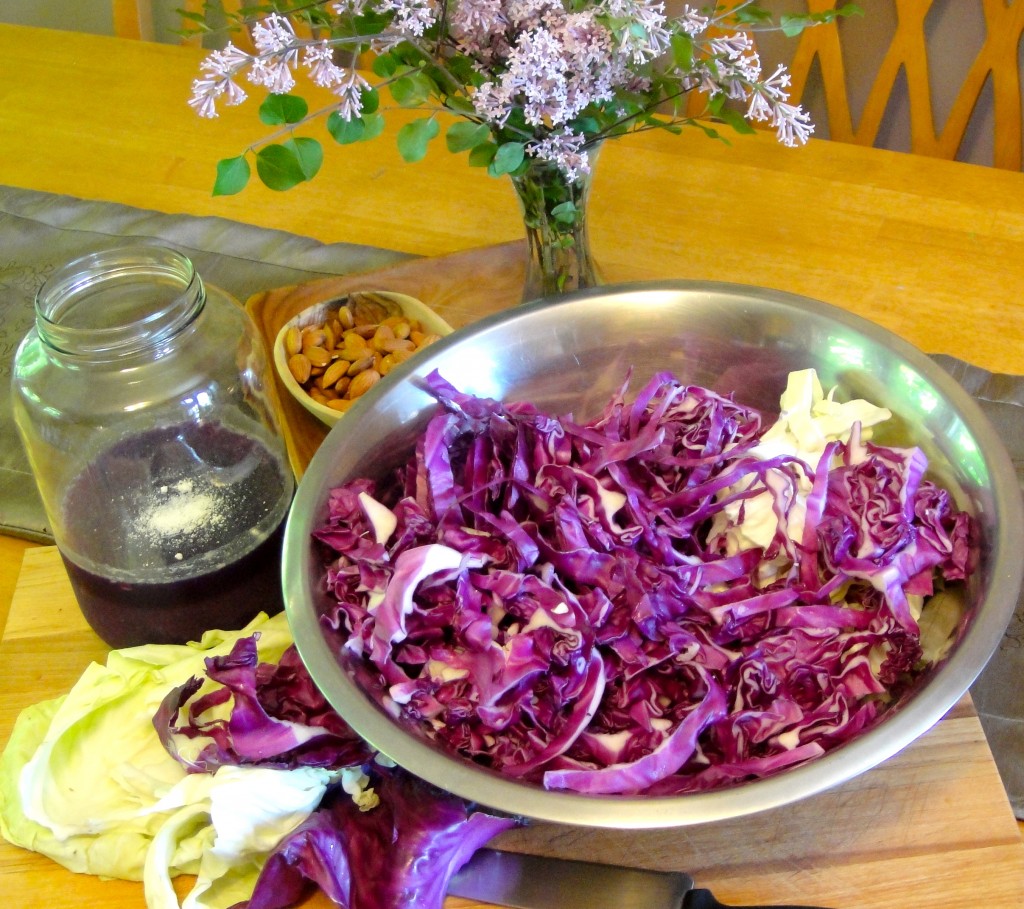 I make batches of cultured veggies- saurkraut, beets and pickles- all lush with healthy bacteria. Life is all about the ying/yang balance of light and dark, and to keep our stores of 'good bacteria'; up so they can keep 'bad bacteria' in check. We are 90% bacterial organisms ourselves, so let's get cozy with our beneficial bacteria.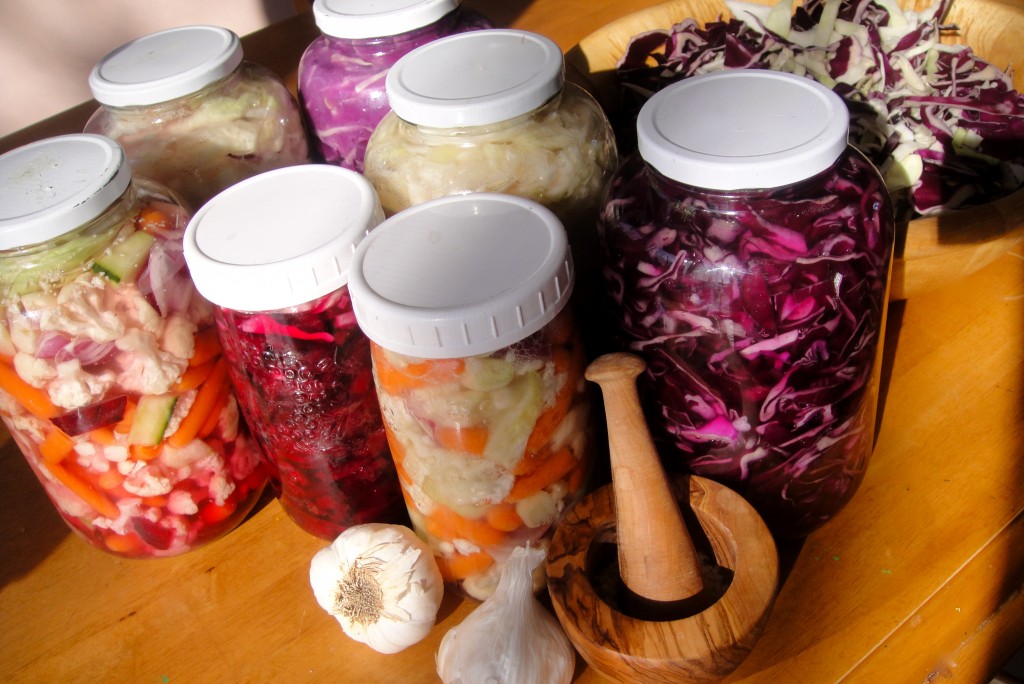 Long-lived cultures around the globe have one thing in common- fermented foods. Fermented food is the oldest form of food preservation. It is an efficient technology that has stood the test of time, improving digestibility of food and increased enzyme and nutrition making food medicinal. And it's easy and fun!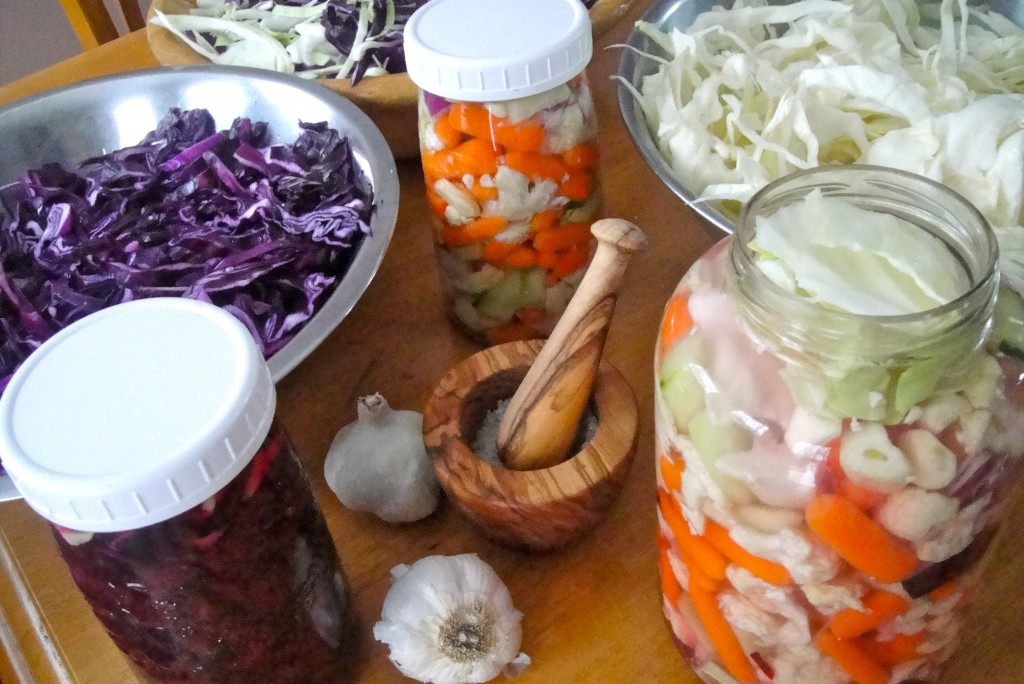 Fermenting veggies like cabbage and beets and cauliflower and carrots helps us digest cooked foods.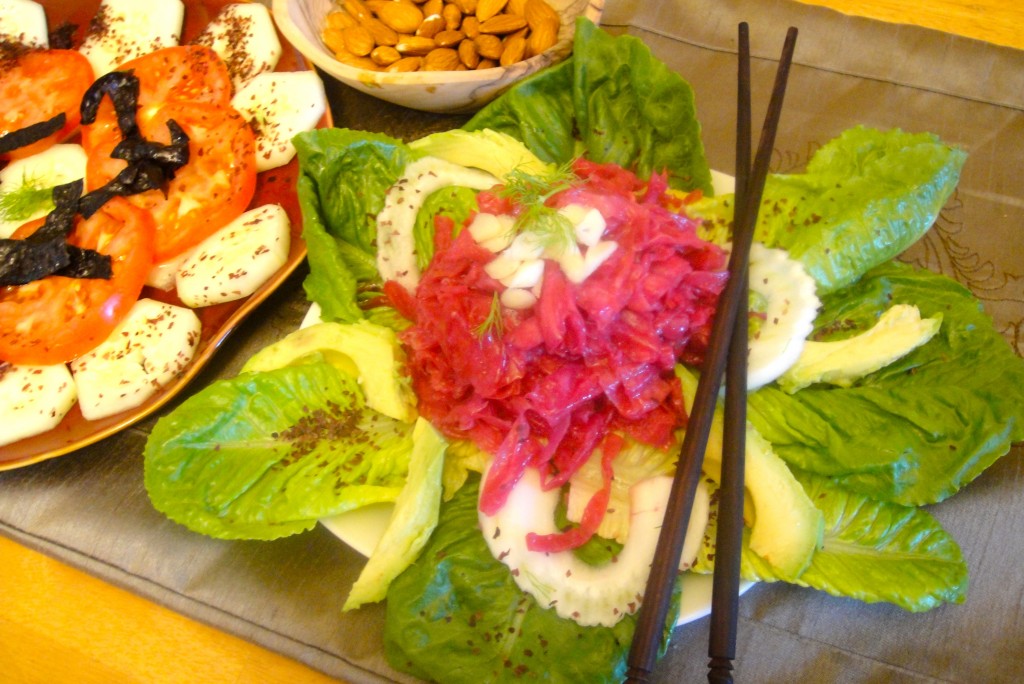 In the summer, using garden fresh cucumbers and dill to make homemade pickles is a fun tradition- my boys don't eat my other fermented veggies but they like pickles! And I love that they are aquiring a taste for sour foods.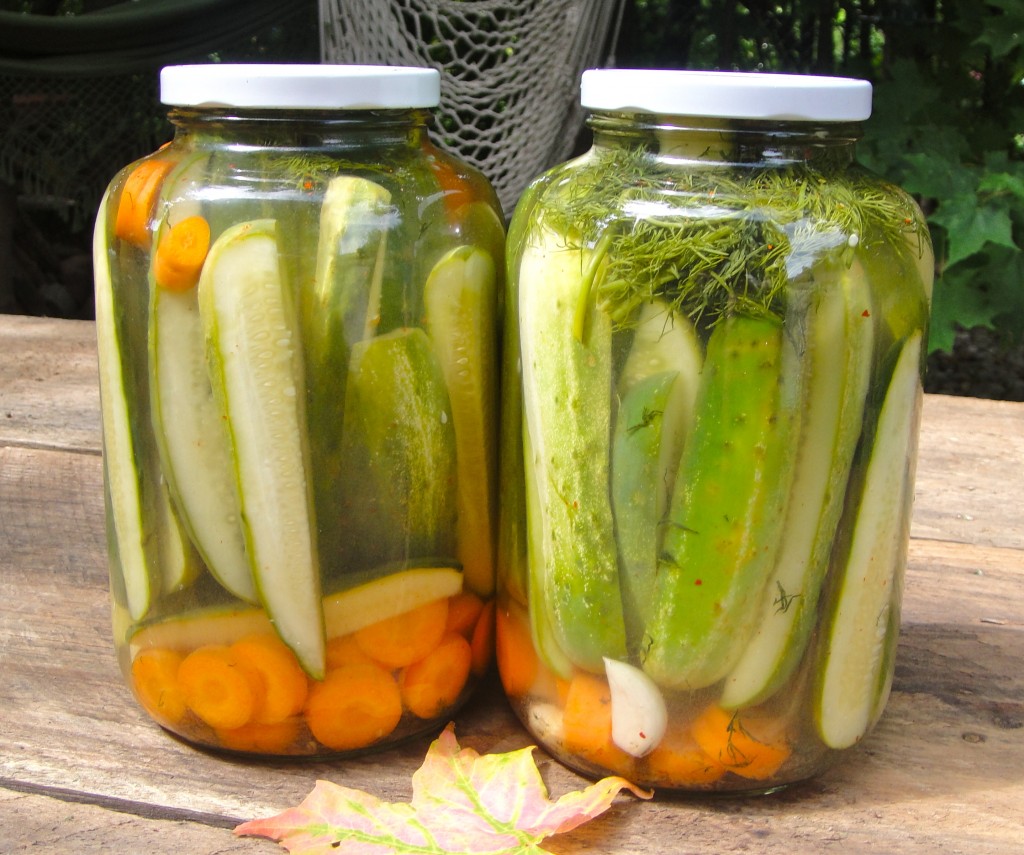 The Dill Fairy visited me this year and I made a video for you to show you how easy it is to make your own homemade pickles HERE.
Soured, fermented foods help to rebalance our system and can even cut down on cravings. Cultured veggies can be ready in 4-5 days.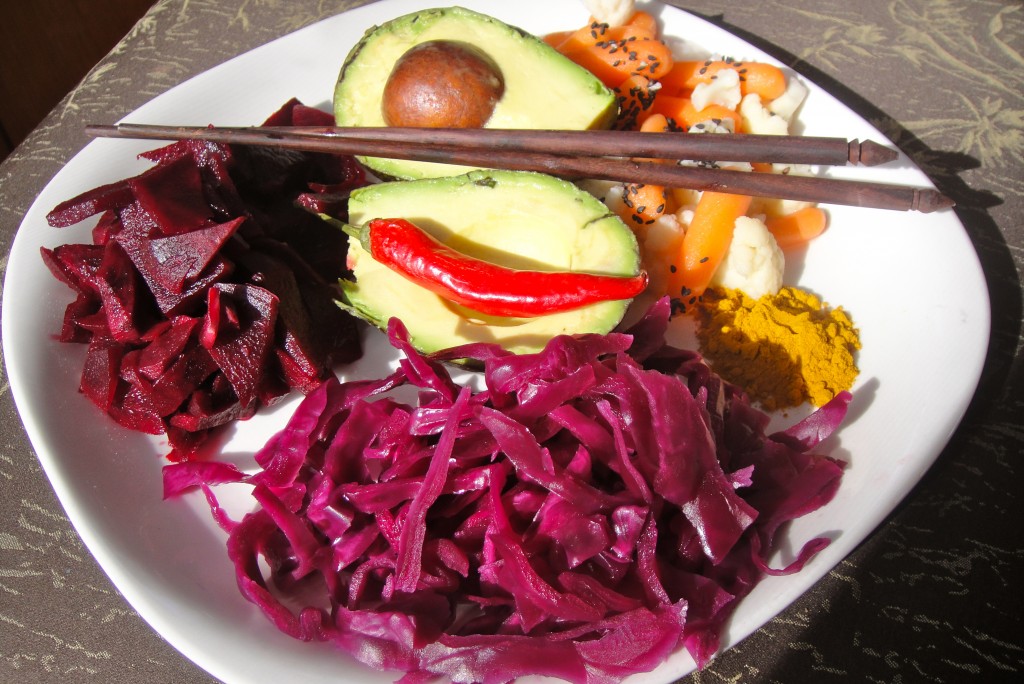 SEXY SLAW
1 cabbage, red or white, Nappa or mixture as the base- organic is best
1 head cauliflower
2 lbs carrots
1 head of garlic
2″ ginger peeled optional
Many veggies can be cultured with great success for more nutrition and digestibility. You can use beets which are great for the liver, sea veggies like wakame and arame, kale, collards etc.
Spices and dried herbs add something special: I like caraway seeds, chili flakes, garlic and ginger.  Celery juice makes a great brine too.  But to just get started, go basic and just try cabbage and water with salt so you get comfy with this first before experimenting.
1. Clean all vegetables well and then chop or use a food processor to shred everything.
2. Mix and mash vegetables in a bowl by hand releasing some of the juices.
3. Pack vegetable mix tightly into glass jar(s).
4. When the jars are full with about 1 -2 inches room at the top, use a wooden spoon to pound the mixture down and then add some more. Always leave 1-2 inches at the top of the jar so the fermented veggies have room to expand. I use 2 quart size jars.
5. Then add liquid or brine which is a mixture of good quality Celtic or Himalayan salt, about 2 T, and water. I also add a few leaves of cabbage that were from the outside of the head instead of disgarding them; they help take up the space at the top and keep the veggies below the brine.
6. Pour brine over the veggies, leaving breathing room for expansion.
7. Cap tightly and leave at room temp for 2-4 days. I 'check in' every day and release the cap to let the built up fermentation gases escape, and re-seal air-tight.
That's it! When to taste, store in fridge.
Note: Donna Gates recommends using a 'starter' of probiotics- I do this when I have them in the house, but it turns out well without it.
These keep very well and are great to have on hand in the fridge. You can eat them alone as a condiment, or add them to salads, sprouted tortilla wraps, etc. I love them with a little olive oil, some turmeric and dulse sprinkled over top, with avocado.  In-Joy!
Here are Donna Gates of the amazing Body Ecology Diet acreating a batch in this video series:
http://www.youtube.com/watch?v=YTy__5elYp4&feature=player_embedded
with flora and fauna,
Tagged: donna gates, earth empress, fermented foods, homemade pickles, nude food, raw food, Shakaya Leone